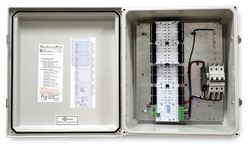 "Our new multi-branch-circuit meter offers a modular design to easily measure 12-84 energy measurement points for less than $30 / point", Cynthia A. Boyd, Director, Sales and Marketing.
LONGMONT, Colo. (PRWEB) October 08, 2020
The CCS Multi-Circuit Meter (MCM) for Modbus® measures bi-directional energy, power, voltage, current, etc. for up to 84 single-phase or 28 three-phase circuits. It communicates using either Modbus/RTU over RS-485 or Modbus/TCP over Ethernet. The MCM provides revenue-grade system accuracy when used with the CCS Accu-CT® family of revenue grade (C0.6 or better) current transformers.
Features

One model can measure 100 to 600 Vac, single-phase or three-phase, wye or delta services
Modbus registers can reverse CT polarity and change the assignment of CTs to voltage phases to correct wiring errors
Modbus registers can assign different CT amps for each input
Diagnostic LEDs for each CT input and for the RS-485 Modbus communication
ANSI C12.20 class 0.5 and ANSI C12.1 accuracy
Works with any 0.333 Vac current transformers and milliamp output CTs
Line powered from 100 to 600 Vac