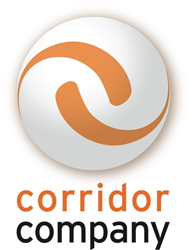 "As an organization, we're committed to continuous education – both for ourselves as well as our client base and overall community." Russ Edelman, CEO, Corridor Company
Wakefield, Mass. (PRWEB) April 27, 2016
Corridor Company, Inc., the leading provider of contract lifecycle management software powered by the SharePoint and Office 365 platforms, this week announced the launch of "This Week in Contract Management," a new blog series where Corridor Marketing Manager, Rob Lunder, provides his insight and commentary on all of the latest hot button news and issues in the world of contract management. The blog series is readily accessible through Corridor's website at http://www.corridorcompany.com.
"This Week in Contract Management" highlights the latest industry news and trends in contract management as well as the significance of contract management and its growing role as a C-Level initiative for organizations worldwide. Additional areas of focus include the importance of both process and automation in managing and introducing efficiencies in an organization's contract management process.
Each week, Corridor will highlight a key news story, issue, or theme and provide industry leading insight into ways the situation could have been avoided, how contract management software can mitigate risk, the skills required to be successful in contract management, and more.
Russ Edelman, CEO of Corridor, says, "As an organization, we're committed to continuous education – both for ourselves as well as our client base and overall community. 'This Week in Contract Management' is intended to not only keep us abreast of issues and advances in contract management, but to also examine the role contract management plays in allowing organizations to identify and address immediate operational efficiencies."
A sampling of the recent blogs which Corridor has published as part of This Week in Contract Management include:

Jasmin Steely, COO of Corridor, says "We're extremely excited about the launch of this blog series. As contract management becomes a leading initiative with many organizations, it's important that we collectively examine current industry issues and how these can be systematically addressed through both process and technology."
About Corridor Company
Corridor Company is committed to continually evolving our software product line to meet the challenges of contracts and their proper management. With a business application platform that readily provides solutions for Contract, Proposal and Supplier Management, Corridor's end-to-end solutions enable customers to create contracts and proposals more efficiently, manage all processes more effectively, and ensure that revenue, profit and compliance are all fully optimized. Corridor's flexible licensing model, supporting implementation packages, and delivery options which include on premises, in the Cloud, or Office 365, ensure a solution tailored to fit the needs of your company. To learn why global to mid-sized clients choose Corridor as their Contract Management partner, visit http://www.corridorcompany.com.
Media Contact:
Rob Lunder
774-249-2479
rob(dot)lunder(at)corridorcompany(dot)com