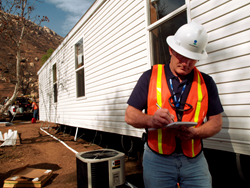 Don't rush into a decision. Don't automatically hire the first contractor who comes along.
LOS ANGELES (PRWEB) November 19, 2018
Evacuation orders have been lifted and residents are returning to their homes, but it will be months and maybe years before rebuilding from the Woolsey Fire is complete. In the days and weeks ahead, residents will begin the difficult process of putting their lives back together and this is a time when scam artists prey on the vulnerable.
Better Business Bureau of Los Angeles has some important advice to make sure you're dealing with a reliable, trustworthy contractor.
Be aware if a worker…

Shows up and tells you your home is unsafe. If you're concerned about possible structural damage have an engineer, architect or building official inspect your home.
Offers to repair or rebuild your property with a deal that sounds too good to be true.
Claims to have leftover materials from a job "down the street."
Doesn't have a permanent place of business.
Claims to be FEMA certified. FEMA does not certify general contractors.
If you come to an agreement with a contractor ...
Make sure you get a written contract.
It should specify the work to be done, the materials to be used and the price breakdown for both labor and materials.
Any promises made orally should be written into the contract, including warranties on materials or labor.
Be sure the name, address, license number and phone number of the business along with a start and end date for the work appear in the contract.
Read and understand the entire contract and don't sign a blank contract.
A copy of the signed contract is to be given to you when you sign.
Never pay the full amount in advance and do not pay cash. Establish a payment schedule. Do not make a final payment until you are satisfied with the completed work and don't make payments for work that hasn't been completed.
Monitor the progress of the project and keep a paper trail of all documents.
And remember ...
Don't rush into a decision. Don't automatically hire the first contractor who comes along.
Check with your insurance company about coverage and how to file a claim.
Save all receipts, including those for food, temporary lodging or other expenses that may be covered under your policy.
For major repairs, get three estimates.
Contractors performing work totaling $500 or more for labor and materials must be licensed. The Contractors State License Board cited over a dozen contractors for working without a license at the scene of the Camp Fire in Chico, and odds are others are taking advantage in the wake of the southern California fires.
Finally ...
BBB is available for interviews. Contact John Novaria at john(at)lasvbbb.org or 310 857 8934.