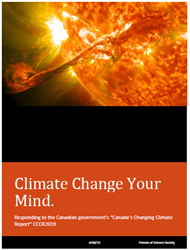 "Science has progressed through a uniquely productive marriage of human creativity and hard-nosed skepticism…."Science is about inquiry, not compliance.
CALGARY, Alberta (PRWEB) June 27, 2019
As reported by CBC on June 18, 2019, Canada declared a climate emergency in the House of Commons, but Friends of Science Society says this impetus comes from clinical psychologist Margaret Klein Salamon and not from climate scientists.
Numerous climate science experts, like Dr. Ross McKitrick, reject the theme of a 'climate emergency' as he writes in the Financial Post of June 21, 2019, entitled "Apocalyptic rhetoric about extreme weather keeps ramping up. But experts say there's no emergency." He earlier wrote an open letter about the "climate mob" effect on shutting down dissenting views.
McKitrick's evidence-based response is echoed by the testimony of Dr. Judith Curry to the US House of Representatives of June 25, 2019 on the topic of climate change and natural disasters.
As reported by the New York Times on March 6, 2019, psychologist Margaret Klein Salamon created a "Climate Emergency" program to mobilize people into compliance by using tactics like scaring people into panic mode to manipulate public opinion and behavior. A well-known claim by her suggests "Our house is on fire" as she writes in Medium, May 24, 2019.
This theme is frequently parroted by child climate activist Greta Thunberg, as at the World Economic Forum speech of Jan. 25, 2019. A New York Times story on - "The Other Kind of Climate Denialism" - of March 6, 2019, notes that the American Psychological Association (APA) studied climate denialism about human-caused global warming in 2008 and 2009, (also issuing a report).
Ironically, the APA study was a decade into the continuing ~20 years of stagnation of global warming, reported by the UN climate panel's 2013 report. Carbon dioxide levels continue to rise, but according to the December 2018 NASA GISS dataset, temperatures have declined 0.5°Celsius in the past three years, contrary to the theory of carbon dioxide as the control knob on human-caused warming.
Friends of Science Society condemns the Canadian federal government for attempting to scare people into climate policy compliance with cheap psychological tricks like 'climate emergency.' Friends of Science rejects the term 'denial' as a delusional, pejorative smear by psychologists who appear to be unaware of the complexities of climate science. As stated in "On Being a Scientist: Responsible Conduct in Research (1995)" "Science has progressed through a uniquely productive marriage of human creativity and hard-nosed skepticism…."
Science is about inquiry, not compliance.
Friends of Science says Canadian government policy should be open to free and democratic debate and based on sound evidence, not climate models (computer simulations). The Canadian federal government's "Canada's Changing Climate Report 2019" (CCCR2019) was rebutted by Friends of Science Society with "Climate Change Your Mind" of April 30, 2019.
In addition, Friends of Science Society calls for a review of foreign funded environmental groups in Canada, principally operating as the Tar Sands Campaign. These tax-subsidized, now wealthy groups have been using climate change 'apocalyptic' statements and extreme weather events as the umbrella cause to upset rational climate and energy policies, resulting in the destruction of Canadian jobs and the economy.
See these reports:
LINK: blog.friendsofscience.org/2019/05/07/environmental-charities-a-compilation-of-reports-on-their-finances-power-and-implications-for-canada/
About
Friends of Science Society is an independent group of earth, atmospheric and solar scientists, engineers, and citizens who are celebrating its 16th year of offering climate science insights. After a thorough review of a broad spectrum of literature on climate change, Friends of Science Society has concluded that the sun is the main driver of climate change, not carbon dioxide (CO2).
Friends of Science Society
P.O. Box 23167, Mission P.O.
Calgary, Alberta
Canada T2S 3B1
Toll-free Telephone: 1-888-789-9597
Web: friendsofscience.org
E-mail: contact(at)friendsofscience(dot)org
Web: climatechange101.ca