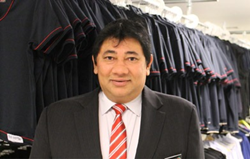 We now fully control the uniform purchasing and the budgets. We know what to buy and when to buy it. We also know who has what, all pieces are accounted for
LOS ANGELES (PRWEB) March 14, 2019
InvoTech Systems is the leading provider of advanced Linen Management, Laundry and Uniform Systems that integrate the latest RFID technology to increase profitability for hotels, resorts, casino operators, sports arenas, convention centers and theme parks. The InvoTech System installed at the Melbourne Convention and Exhibition Centre (MCEC), Australia manages the uniform inventory for 700 employees and has been part of InvoTech's extensive worldwide client portfolio since 2012. Click here for more information on InvoTech's Linen, Laundry and Uniform Systems.
We Interviewed Mark Punchihewa, Uniform Manager at MCEC regarding the uniform activity at the Convention Centre:
What made you be interested in an inventory management system?
MP: We manage a large amount of uniforms and employees (700 staff and 10,000 garments). Manually managing the uniform inventory is very labor intensive.
What processes were in place before using the InvoTech UHF-RFID Uniform System at the Convention Centre?
MP: The only process in place was a manual process, we had no way of maintaining the inventory or knowing what we had. We simply kept a master list of uniforms and we loaded the racks using people's names.
Do you now have better control on uniform purchases?
MP: We now fully control the uniform purchasing and the budgets. We know what to buy and when to buy it. We also know who has what, all pieces are accounted for.
How long did it take for you to start experiencing cost-savings and other benefits?
MP: Cost saving benefits in about 6 months, many other benefits right away.
How much time and labor are you currently saving per day?
MP: Our labor savings are approximately 6 hrs per day / 42 hrs per week for us this represents thousands of dollars of savings per year.
What would you say are the 5 most beneficial features of the Uniform System?
MP: Controlling losses, purchases, assigning uniforms, washing cycles and laundry activity.
What do you think is the most important benefit the system provides for businesses?
MP: Labor benefits, time, purchases and inventory control.
What is the report (or reports) that you use the most?
MP: Inventory and purchasing reports.
Do you find the system reliable and easy to use?
MP: The system is very reliable and easy to use, self-explanatory. Never had any problems with the system performance.
Is the User Guide a useful tool?
MP: The User guide is a great addition in case we have questions about functionality.
Do you find it easy to train others to use the system?
MP: It is very easy to train others, and we usually just train them and give them access for certain functionality only.
How good do you find the reports?
MP: The reports are used daily, they are reliable and very useful
Have you used the Support Desk? If yes, how would you grade the Support Desk service?
MP: We have used the Support Desk and have always been satisfied with the responses and response time. Time difference can sometimes be a challenge!
Would you recommend this system to other convention centers/event spaces?
MP: Yes, the system delivers so many benefits to operations like us, not sure how other places like ours do it without a system
If you were to move locations would you want to install the InvoTech Uniform System in your new location?
MP: Absolutely!
InvoTech has over 600 satisfied clients worldwide in more than 30 countries, including hotels, resorts, casinos, theme parks, stadiums, arenas, convention centers, medical centers, cleanrooms, and laundries. Why InvoTech? Because major brands like Hyatt, Marriott, Ritz-Carlton, Hilton, MGM International, Wynn Resorts, Caesars Entertainment, Universal Studios, LEGOLAND, Intel, Pfizer, Madison Square Garden, and Staples Center rely on InvoTech Systems to provide operational efficiency, full-accountability, and turn-key solutions for laundry, linen and uniform management. See what our clients are saying about us.
About InvoTech Systems
InvoTech Systems, Inc. increases profitability for clients. It is a leading provider of software management and control systems for uniforms and linens, and for laundry and security operations. Served markets include hospitality, healthcare, cleanroom, commercial laundry, and amusement industries worldwide. InvoTech products deliver vital information that establishes ultimate control and total accountability. InvoTech solutions are reliable and easy to use. They streamline operations and improve service levels with reduced labor and operating expenses. InvoTech provides 100% of its system support and product development in-house. The firm's trusted staff averages 10 years of reliable technical experience, knowledge of methodologies, and industry depth. InvoTech is a Microsoft Certified Partner that evolves technology-based solutions regularly based on client- and staff-driven innovations. The company is rooted in a culture that emphasizes long-term client relationships and superior customer service. For more information, please visit http://www.InvoTech.com
About Melbourne Convention & Events Centre
Recognized as Australasia's Leading Meetings and Conference Centre from 2012 - 2016 by the prestigious World Travel Awards, Melbourne Convention and Exhibition Centre (MCEC) connects you with everything you need for a successful event – incredible spaces, leading technology, award-winning food and the expertise to bring it all together. MCEC's core purpose is to connect people through memorable experiences. Our vision is to be the world's best events destination, leading the way in food, technology and service. Find out more at our website.
CONTACT:
InvoTech Systems, Inc.
Oswald Lares, Director of Sales & Marketing
20951 Burbank Blvd. Suite B
Woodland Hills, CA 91367 USA
Phone: 818-574-7795
Email: Sales(at)InvoTech.com
http://www.InvoTech.com