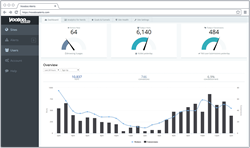 Shortly after installing the simple JavaScript on a client's website, VA gets to work learning the website's trends, thus allowing it to closely monitor any disparities that invariably arise on a regular basis.
New York, NY (PRWEB) December 04, 2014
Conversion tracking for website owners is about much more than simply recording the amount of sales happening on a website. Truly effective goal and conversion tracking involves compelling landing pages, persuasive sales funnels, and simple yet effective goal creation and monitoring. Creating and monitoring custom goals has become an imperative part of not only establishing which sectors of a website are generating revenue or profitability, but also monitoring user engagement, content value and effectiveness, and as always, marketability of the product. With ease and function in mind, Voodoo Alerts makes custom conversion tracking simple with easy goal creation, accomplished directly from the main Voodoo Alerts Dashboard.
With Voodoo Alerts website monitoring and alerting services, custom conversion tracking and goal creation has been made simple and intuitive, with easy access directly from the client's main VA dashboard. While other website monitoring services offer goal creation, most would admit that figuring out custom goal creation can be quite difficult. With this in mind, Voodoo Alerts has simplified goal creation, allowing users to create custom goals with a few clicks of the mouse.
Most Voodoo Alerts users prefer to use the simplified goal creation tool, allowing them to simply name their goal for easy identification from the VA dashboard. Users simply choose the detection method, most choose the simplified "path equals" option, which lets them identify a goal page simply via URL. From this same menu, users identify which page on their website is to be monitored, and how much that page's average conversion is worth. This allows simple goal tracking, funnel monitoring, and monetary value tracking.
More experienced users can set up custom goals using more intricate functions like "path contains, URL contains, query string contains, regular expression contains" and "manual" mode allowing for complete customization of goals. Power users will find these goal tracking features extremely potent while still maintaining ease of use and reliability of results.
About Voodoo Alerts:
Voodoo Alerts is a powerful new analytics tool- the only one of its kind- merging real user monitoring with customized conversion tracking and alerting in a way never before seen. Shortly after installing the simple JavaScript on a client's website, VA gets to work learning the website's trends, thus allowing it to closely monitor any disparities that invariably arise on a regular basis. If a third party app releases an update that affects a client's website, making an portion problematic for visitors, Voodoo Alerts notices it instantly and quickly notifies the web administrator with detailed information, making problem solving extremely quick and increasingly painless. No longer does a client's website sit broken, for instance, due to an update that causes an incompatibility for those visitors using Chrome 20. If visitors cannot access a portion of a client's site, VA finds the break quickly and notifies the client. This is what makes Voodoo Alerts different from the other top tier website monitoring software.
Take VA a spin for free today. Simply sign up for a 30 day free trial, install the tiny JavaScript on your website, and let the newest solution in website monitoring put some of its voodoo on your site.
Voodoo Alerts Contact Info:
San Diego, CA
(858) 569-4200
Info(at)VoodooAlerts(dot)com
Twitter: VoodooAlerts
Facebook: Voodoo-Alerts
Sign up for the VA Newsletter: HERE