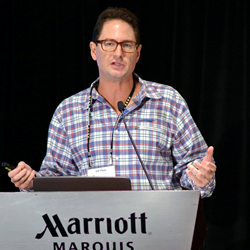 Once an increase in conversion rate is demonstrated it opens up the flood gates to launching additional tools, services, and strategies to boost it further.
(PRWEB) September 29, 2016
Affiliate Summit, the leading affiliate marketing industry conference and exhibition, will feature Evan Weber, CEO of Experience Advertising, Inc., as a solo presenter for their upcoming Affiliate Summit West (#ASW17) conference. Affiliate Summit West 2017 is taking place January 15th-17th, 2017 at the Paris Las Vegas in Las Vegas, NV.
Affiliate Summit was founded by Missy Ward and Shawn Collins in 2003 for the purpose of providing educational sessions on the latest affiliate marketing industry issues and fostering a productive networking environment for affiliate marketers, advertisers, ad networks, agencies, and other likeminded performance marketing industry individuals.
Affiliate Summit has cemented themselves as the must-attend affiliate marketing conference taking place twice a year, with several thousand attendees at each show. This three-day conference includes a large-scale exhibit hall with affiliate merchants, vendors, and ad networks. There are multiple lecture sessions of educational material covering a wide variety of topics related to affiliate marketing and Internet marketing in general, as well as covering the latest trends and information from affiliate marketing experts.
Evan Weber, CEO of Experience Advertising, Inc. a full-service digital marketing agency, will be presenting an educational lecture titled:
Session 14B: 10 Ways to Solve the Website Conversion Rate Dilemma
Date: Tuesday, January 17th, 2017
Time: 2 PM - 3 PM
Format: Solo Presentation (60 minutes)
Weber stated, "I am thrilled to be an elite speaker at Affiliate Summit West 2017. It's a true honor to be selected to present. I look forward to delivering a dynamic, knowledge-packed lecture with practical strategies and plenty of examples from my direct experiences. I'm especially excited to meet the conference attendees afterwards and answer their questions. Another very exciting aspect of this particular event is that I will be trying to win the overall most attended session for the 3rd year in a row, so I hope to see a big crowd there."
About Experience Advertising, Inc:
Evan Weber's agency Experience Advertising, Inc. is a true full-service online marketing agency specializing in the following areas for clients: affiliate program management, affiliate recruiting, search engine marketing (SEM), social media marketing, Facebook advertising, Twitter advertising, LinkedIn advertising, website conversion rate optimization, email marketing, graphic design, programming, content marketing, referral programs, shopping engines, sweepstakes, B-to-B advertising, and website visitor retargeting. Weber states that he believes in implementing a comprehensive digital marketing strategy for his agency's clients. He also provides various types of consulting for companies of all sizes, working with their in-house staff implementing strategies, improving processes, and refining management techniques. Weber stated, "I really enjoy working with companies to help improve how they handle digital marketing in-house, as well as bringing them new tools and widgets to add functionality and boost conversions. When I can come in and make a significant impact in a short period of time, it's a fulfilling experience for me, so I enjoy doing that."
Affiliate OPM:
Experience Advertising is recognized as a leading "OPM" agency (outsourced affiliate program management). They manage affiliate programs for companies in a wide variety of industries on the major affiliate networks and in-house programs as well. Mr Weber stated, "I started this agency to focus on affiliate programs because I saw a need for really good affiliate management in the industry, since companies generally don't have the ability to manage their affiliate program well in-house. I knew this to be the case coming from the merchant side of the industry. I knew that if I brought my brand of affiliate management to the industry it could have a profound effect and I could reach large groups of affiliates with my content and support. So I've really enjoyed running the affiliate side of my agency over the last 10 years.
ASW17 Session Topic:
Evan will give a presentation about what is known as "conversion rate optimization," which is the process of improving the overall effectiveness of a company's website to convert their visitor traffic into sales or leads. He stated about the upcoming session, "Over the years I have become better and better at improving a company's website conversion rate by implementing a list of recommendations based on their current website design. Also, utilizing A/B testing is extremely important to boosting conversion rates. Modern e-commerce tools allow for the rapid implementation of widgets and services designed specifically to increase conversion rates, so the fact that it happens quickly is great for the instant gratification aspect. Once an increase in conversion rate is demonstrated it opens up the flood gates to launching additional tools, services, and strategies to boost it further. So these are very exciting times in digital advertising. Now, the advertiser or merchant has more control over their ROI metrics, which ultimately allows for the advertising budget to be opened up to drive more traffic and revenue. So I look forward to showing how that's accomplished with practical examples."
"We're excited to have Evan return as a speaker on the Affiliate Summit faculty," commented Shawn Collins, Co-Founder of Affiliate Summit. "His sessions have been very popular and received high praise in the audience feedback."
If you are interested in attending Affiliate Summit West, go here to register for tickets.