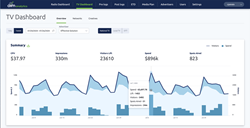 "We are honored that we were featured again on the Inc. 5000 list as this is one of the most exclusive business clubs in the U.S. This award is a direct reflection of our team's dedication and passion for serving our clients and helping them grow." Tedd Barr, Managing Partner
HUNTINGTON BEACH, Calif. (PRWEB) January 20, 2021
Converze Media Group is featured as one of the fastest-growing, privately held companies in the U.S. on the Inc. 5000 list in 2020 and 2019. This prestigious list has become the hallmark of entrepreneurial success and where future household names first make their mark. "The list is a distinguished editorial award, a celebration of innovation, a network of entrepreneurial leaders, and an effective public relations showcase." - Inc. 5000. It is an annual ranking of companies with the most proven track records. The honoree companies are individually profiled on Inc.com.
"We are honored that we were featured again on the Inc. 5000 list as this is one of the most exclusive business clubs in the U.S. This award is a direct reflection of our team's dedication and passion for serving our clients and helping them grow." Tedd Barr, Managing Partner
Converze's continued growth and success are mainly attributed to its proprietary attribution platform, Aim Analytics®. The tool enables the company to quickly build, support, and analyze radio and TV advertising campaigns. Aim Analytics® measures real-time performance across marketing channels by tracking campaigns and providing accurate, up-to-date reports, with traffic numbers, cost per actions, and buying data. This marketing attribution platform provides the data needed to make informed decisions to lower customer acquisition costs.
ABOUT CONVERZE MEDIA GROUP
Founded in 2009 by Tedd Barr and Philip Yancey, Converze Media Group is one of the nation's top direct response buying agencies located in Huntington Beach, California.
Converze Media Group is composed of experienced media professionals and ROAS specialists (Return on Ad Spend). Every ad campaign is focused on one goal: to increase the customer's Return on Ad Spend.
Converze Media Group offers high-quality, direct response media strategies, rates, and creativity. For more information, visit their website at http://www.converzemedia.com.