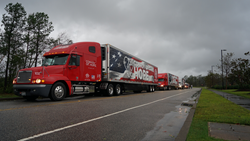 Convoy of Hope is positioned in Wilmington, North Carolina with disaster response supplies.
SPRINGFIELD, Mo. (PRWEB) September 16, 2018
Contact
Jessica Blake — Public Relations Director (417) 838-3015
jblake@convoyofhope.org
Jeff Nene — National Spokesperson (417) 860-2196
jnene@convoyofhope.org
Hurricane Florence has brought relentless rain, causing catastrophic flooding affecting millions. The slow-moving storm has dumped up to three feet of rain in some areas in the Carolinas over the weekend. According to reports from the National Weather Service, rainfall in North Carolina has already broken a state record.
Convoy of Hope's Disaster Services team set up a point of distribution in Wilmington, North Carolina, and is prepared to start distribution to the public tomorrow. All roads in and out of Wilmington are closed, so supplies will be limited until roads reopen. Distribution items will include food, water, baby products, brooms, hygiene kits, flood buckets, tarps and trash cans.
In addition to the distribution hub, Convoy of Hope is servicing the National Guard, local emergency management, and churches in addition to sending water, food and supplies to shelters throughout the Carolinas. Jeff Nene, Convoy of Hope's national spokesperson, is in the field with the Convoy of Hope Disaster Services team. Nene says, "There is still so much to do, and Convoy of Hope is committed for the long haul."
About Convoy of Hope
Convoy of Hope is a faith-based organization with a driving passion to feed the world. With a long history as an early responder in times of natural disasters, Convoy of Hope has been a Four Star Charity as recognized by Charity Navigator for 15 consecutive years. Convoy of Hope has served more than 100 million people since it was founded in 1994. For more information, please visit http://www.convoyofhope.org.