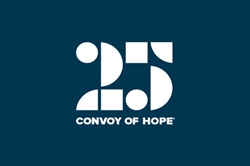 "Convoy of Hope is committed to helping people in need around the world." says, Jeff Nene, Convoy of Hope's national spokesperson.
SPRINGFIELD, Mo. (PRWEB) June 15, 2019
Convoy of Hope continues to celebrate its 25th anniversary. Since its founding in 1994, Convoy of Hope has been committed to helping those in need around the world. To date, Convoy has worked with more than 46,000 partners to serve 115 million people in more than 125 countries. Convoy's work would not be possible without the dedication and generosity of churches, organizations, and individuals who believe in their mission.
Already in 2019, Convoy has responded to disasters, held Community Events across the United States, and hosted Field Teams around the world — all in addition to ongoing work in 14 program countries. Convoy's field staff and network of global partners continue feeding children in schools, empowering female entrepreneurs, and training farmers in agricultural best practices. In the coming months, Convoy will engage even more volunteers and continue expanding our international programming.
Convoy is also looking forward to the upcoming release of Hal Donaldson's (Convoy of Hope CEO and founder) new book, "Disruptive Compassion: Becoming The Revolutionary You Were Born To Be." In this book, Donaldson challenges readers with the question "What's holding you back from becoming the revolutionary you were born to be?" Taking readers with him on his personal journey through struggle and doubt, Donaldson shares the untold story of Convoy of Hope and invites us into a life of disruptive compassion.
As Convoy of Hope continues celebrating 25 years of spreading hope, they are also looking ahead. There are more people to be helped, and Convoy wants to be ready to respond no matter the time, place, or circumstance. Whether in the aftermath of a cyclone or a supply shortage at the border, Convoy wants to be there for the people who need them most. Because that's not just what they do — it's who they are.