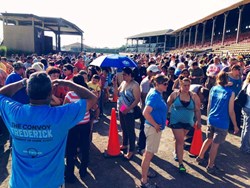 Springfield, MA (PRWEB) August 15, 2013
Convoy of Hope will make a stop in Springfield, Mass., on Saturday, Aug. 17, at the Riverfront Park and will provide a day of free goods and services. The community celebration is one of many Convoy of Hope will host in 2013 throughout the United States. The tour recently made stops in Hawaii where over 15,000 guests attended. More than 32,000 guests of honor have attended the $50 million tour of hope at stops around the country this year.
WHAT: A free Springfield community celebration event offering $1 million in free goods and services including groceries, haircuts, dental check-ups, health services, workforce development services, kids carnival and more.
WHY: Provides an opportunity for local community members to share hope and tangible help with neighbors in a spirit of honor and dignity.
WHO: Convoy of Hope, the community of Springfield and numerous local business, organizations and churches.
WHEN: Saturday, Aug. 17 - Gates open at 10 a.m. (Rain or Shine)
WHERE: Riverfront Park
West Columbus Ave. & Memorial Bridge
Springfield, Mass. 01103
MEDIA OPPORTUNITIES:
-Highlight local residents serving their community
-Interview local families participating in the event
-Speak with national leaders from Convoy of Hope
For more information regarding the outreach event, visit http://www.pioneervalley.convoyoutreach.org or contact Elaine Walker at 413-364-9888.
About Convoy of Hope
Convoy of Hope, a faith-based organization founded in 1994, has a driving passion to feed the world through community outreaches, children's feeding initiatives, disaster response and partner resourcing. Convoy of Hope has a long history as a first responder in times of natural disasters and has been a Four Star Charity as recognized by Charity Navigator for nine consecutive years. For more information on Convoy of Hope please visit http://www.convoyofhope.org.