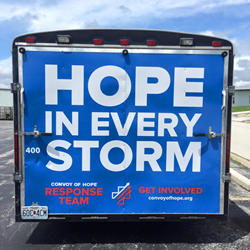 We are thankful for all of these great artists coming together to help Hurricane Harvey survivors.
SPRINGFIELD, Mo. (PRWEB) August 31, 2017
Some of Nashville's most iconic Christian music artists will come together to perform a benefit concert for survivors of Hurricane Harvey on a Facebook Live broadcast on Convoy of Hope's Facebook tonight, Thursday, August 31, at 8 p.m. CST. The concert will be hosted by Natalie Grant with live performances by Jeremy Camp, Mandisa, Matthew West, Danny Gokey, Mark Hall of Casting Crowns, Travis Greene, Matt Maher, Jonathan McReynolds, Ryan Stevenson and more.
"I'm grateful for Convoy of Hope, the work they do and how they immediately help those who need it most," says recording artist, Natalie Grant. "'Together For Texas' started as an idea in my mind in the middle of the night. To see it come together so quickly has been amazing. We're all just doing what we can to love on those who are in the midst of such devastation."
Participating artists volunteered their time and resources to make sure the event could happen quickly, flying into Nashville from around the country. Dozens of radio stations across the United States and the participating artists will run the concert on their Facebook accounts, as well. A local recording studio also donated its space and resources. This is truly a united act of compassion with people coming together for storm survivors.
"We are thankful for all of these great artists coming together to help Hurricane Harvey survivors," says Hal Donaldson, president of Convoy of Hope. "Raising awareness for our response will enable us to help even more people in need."
To date, Convoy of Hope has distributed more than 1 million pounds of emergency relief supplies in Southeast Texas. For more information, visit convoy.org/togetherfortexas.
About Convoy of Hope
Convoy of Hope, a faith-based organization founded in 1994, has a driving passion to feed the world. With a long history as an early responder in times of natural disasters, Convoy of Hope has been a Four Star Charity as recognized by Charity Navigator for 14 consecutive years. Since 1994, Convoy of Hope has served more than 85 million people. For more information please visit convoyofhope.org.