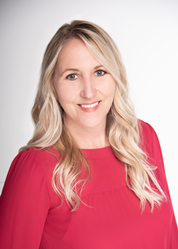 "Sarah fits so well into our Cook & James culture of hard work, candor and fun and we are thrilled to have her on board. We also deeply appreciate the efforts of Chuck, Mary and Taylor and it is our honor to properly recognize them with well-deserved promotions," said Heather James.
ROSWELL, Ga. (PRWEB) May 28, 2020
Cook & James, the Atlanta-area based real estate law firm known for pioneering at-home closings, has added Sarah Stitgen to its attorney staff and promoted several other deserving team members. Today's announcements mark the firm's ongoing, measured yet aggressive growth trajectory begun in 2017 and intensified as the firm served real estate closing transaction needs in the recent weeks of the novel coronavirus pandemic.
Stitgen will take the lead on closings in the firm's satellite Woodstock, Ga. office but will also be a key closing attorney as the firm continues to handle real estate transactions via at-home, mobile, curbside and more across the Atlanta metro area.
Cook & James also today announced a series of promotions. Chuck Biskobing becomes a senior attorney immediately, recognized for his steadiness, optimism and flexibility historically and during the global pandemic; he played a key role as the firm developed its response to the COVID-19 crisis. Mary Jackson has been promoted to senior operations manager; she layers on additional oversight immediately while continuing her prior responsibility for leading all marketing outreach at the firm known for its creative and uplifting take on the work/life balance. Taylor Winne has been promoted to paralegal from her previous position as an office administrator and assumes her new responsibilities immediately.
"Bringing Sarah on board has relieved a huge pressure on the rest of our legal team," said Kara Cook, co-founding partner of Cook & James. "These last few months have been incredibly busy for us and we refuse to sacrifice customer service and our signature convenient at-home closings no matter the situation. Being able to add head count and rely on our capable team members has been critical to us all doing an excellent job for our clients."
Stitgen comes to Cook & James after having handled $10 to $100 million commercial contracts for a large environmental engineering firm as well as doing legal work in consumer bankruptcy, mortgage default and real estate closings. She graduated from John Marshall Law School in 2008 after earning her undergraduate degree and a master's in public administration from Kennesaw State University. Originally from Detroit, she was raised in Georgia with brothers so says she plays every sport under the sun, although basketball and softball are her favorites. She is often called in as a ringer on company coed softball teams, enjoys yoga and wishes her 20-something son lived closer than Arizona, where he works. She and her husband live in Acworth, Ga. where, together with their own dogs, they cheer for the University of Georgia Bulldogs.
"Sarah fits so well into our Cook & James culture of hard work, candor and fun and we are thrilled to have her on board," said Heather James, co-founding partner at Cook & James. "We also deeply appreciate the collective efforts of Chuck, Mary and Taylor and it is our honor to properly recognize them with their respective and well-deserved promotions. The success at Cook & James is thanks to the hard work of people like them and, in fact, our entire team."
About Cook & James
Founded in 2006 to fill a void in real estate transaction services, the attorney team at Cook & James is a pioneer of at-home closings. Specializing in refinancing, purchases, corporate relocations and more, team members can be 100% mobile to offer buyers, sellers and real estate agent partners the flexibility of closing anywhere that is convenient, including at-home. Cook & James attorneys and paralegal professionals bring everything needed to the closing to facilitate a smooth experience. Using a proprietary at-home closing platform, the firm's residential real estate legal solutions and expertise include purchases, mortgage refinances, title clearance, deed preparation, corporate relocation assistance and more.
Kara Cook and Heather James are co-founding partners. The firm is based in the north Atlanta suburb of Roswell, Ga. has a satellite office in Woodstock, Ga. Cook & James is also licensed to do business in Connecticut, New York and South Carolina. Learn more at http://www.CookAndJames.com.