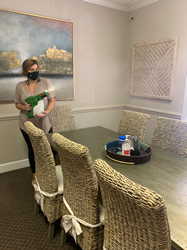 "Since we were able to take our classes 100% virtual in May, more than 850 real estate professionals have taken our classes. We are so pleased we can help realtors stay relevant, keep up with their required CE credits, and maintain some sense of normalcy during this crazy pandemic period."
ROSWELL, Ga. (PRWEB) August 20, 2020
Since COVID-19 health and safety protocols went into place this spring, Cook & James, the Atlanta-area based real estate law firm known for pioneering at-home closings, has moved its popular continuing education (CE) classes to a completely online format and ramped up safety measures in their office for those clients who now choose to close their real estate transactions there.
"Since we were able to take our classes 100% virtual in May, more than 850 real estate professionals have taken our classes," said Heather James, co-founding partner at Cook & James. "We are so pleased we can help realtors stay relevant, keep up with their required CE credits, and maintain some sense of normalcy during this crazy pandemic period."
The Cook & James digital class offerings including License Law, Fair Housing & Assistance Animals, Ready to Close, Environmental & Historic Preservation Topics in Real Estate, Real Estate Ethics, Social Media 101, YouTube for Real Estate Agents, and Real Estate Advertising. These CE classes are approved by the Georgia Real Estate Commission and realtors can apply them to the 36 hours of ongoing education required every four years to maintain their license.
To present classes, Cook & James partners with a variety of Atlanta-area real estate organizations. Each class is designed somewhat individually, with some being fee-based and open only to that partner organization's members; other classes are free to attend by anyone. Most classes allow up to 100 participants, are three hours long and Cook & James monitors and verifies attendance to meet the Real Estate Commission's stringent parameters.
In addition to offering classes in a new way, the COVID-19 quarantine period presented the firm with challenges about how to safely conduct their essential work of closing real estate transactions. In April, Cook & James innovated a new solution, the curbside closing, which the firm continues to offer, but has also notably increased safety protocols for in-office work.
"Because of the highly sensitive nature of our work, the proprietary personal information we handle in real estate transactions, and the burgeoning rate of cybercrime, remote work is sometimes just not an option for us," said Kara Cook, co-founding partner at Cook & James.
So, to accommodate a safe in-office work environment, each employee now has their own personal office space, all doors are kept closed and meetings are conducted via zoom office to office, rather than in person. Each employee has a temperature check upon arriving to work every morning, masks are worn at all times and hand sanitizer is plentiful, as are hand washing stations. Cook & James has installed a medical grade air purifier and filtration system and, when a client chooses to close in a conference room, the firm sanitizes all surfaces, closing papers, pens, etc. with Lysol disinfectant and a UV light wand, and requires masks for everyone. Care is taken to minimize touching and passing papers back and forth between people. Finally, the firm uses an EPA-registered hospital disinfectant cleaner morning and night, applying it through the entire office space with an electrostatic sprayer.
To learn more about any of these safety initiatives or register for any of the below upcoming classes, email info@CookandJames.com or call 404-704-0440.

License Law which reviews real estate license maintenance, unfair trade practices, advertising rules, brokerage relationships and escrow (3 hours CE credit). Class dates: September 22 and October 22.
Environmental & Historic Preservation Topics in Real Estate which provides an overview and understanding of environmental and historic preservation issues that can arise during the real estate transaction process, including environmental hazards that may affect title and real estate values, historic preservation as well as the law of takings (i.e. Eminent Domain), and sustainability and green building in real estate (3 hours CE credit). Class dates: September 17 and October 15.
About Cook & James
Founded in 2006 to fill a void in real estate transaction services, the attorney team at Cook & James is a pioneer of at-home closings. Specializing in refinancing, purchases, corporate relocations and more, team members can be 100% mobile to offer buyers, sellers and real estate agent partners the flexibility of closing anywhere that is convenient, including at-home. Cook & James attorneys and paralegal professionals bring everything needed to the closing to facilitate a smooth experience. Using a proprietary at-home closing platform, the firm's residential real estate legal solutions and expertise include purchases, mortgage refinances, title clearance, deed preparation, corporate relocation assistance and more.
Kara Cook and Heather James are co-founding partners. The firm is based in the north Atlanta suburb of Roswell, Ga. has a satellite office in Woodstock, Ga. Cook & James is also licensed to do business in Connecticut, New York and South Carolina. Learn more at http://www.CookAndJames.com.
# # #