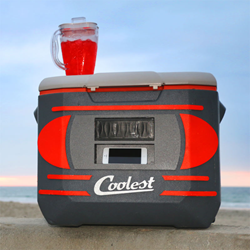 Blending Greppers' DIY innovation with Kickstarter's platform was a perfect way to bring this product to market. - Brendon Burchard
Portland, Oregon (PRWEB) November 28, 2013
The 'Coolest' campaign on http://www.kickstarter.com is allowing savvy shoppers to get a jump on the holiday season. With nearly 50% of its $125,000 campaign goal raised on the first day of funding, the 'Coolest' is on target as the latest Kickstarter success story.
The 'Coolest' revolutionizes the way you enjoy your favorite beverages outdoors. Never before seen features include a built-in blender, removable Bluetooth speakers, embedded lid light and bungee tie-downs. The campaign's early success bolsters the crowdfunding theory that when a product solves enough problems, consumers are willing to show their support with their wallets.
The 'Coolest' campaign has received significant support from Brendon Burchard, the highest-paid marketing trainer and online strategist in the world. "I know a great idea when I see it. Blending Greppers' DIY innovation with Kickstarter's platform was a perfect way to bring this product to market," said Brendon Burchard.
The 'Coolest' campaign on Kickstarter launched November 26th with the goal of financing the next phase of product manufacturing through a crowdsourcing strategy. Backers of the campaign can pledge anywhere from $1.00 to $10,000. The campaign has already sold out one reward level, and is on track to exceed their overall fundraising goal.
"It was the right time to take this concept to a larger market. There is no better place to receive immediate market validation from consumers than Kickstarter," said Grepper.
The 'Coolest' campaign will run for 30 days and end on December 26th. For more information about the 'Coolest' campaign or to back the project directly, visit http://www.coolestkickstarter.com.