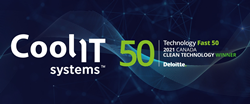 "Our people are what put us in a position to succeed. We have a great team here that are always looking to not only adapt in the face of adversity, but to also innovate and thrive."- Steven Walton, CEO
CALGARY, Alberta (PRWEB) November 17, 2021
CoolIT Systems, the global leader in scalable liquid cooling technology for desktop and data centers, is presented the Deloitte Clean Technology Fast 50™ program, a new awards category in the Technology Fast 50 program that recognizes Canada's top clean innovators providing processes, goods or services that reduce environmental impacts. The winning companies are ranked by their revenue-growth percentage over their last four years of operation, proving minimum revenues of $50,000 in 2017 and $5 million in 2020. CoolIT Systems ranks 11th with a 379% percent in revenue growth from 2017 to 2020.
Steven Walton, CoolIT's CEO credits CoolIT's people along with the company's strong IP for the company's 379% percent revenue growth. Walton states, "Our people are what put us in a position to succeed. We have a great team here that are always looking to not only adapt in the face of adversity, but to also innovate and thrive. It's that type of resilience that has allowed us to become a thought leader in the liquid cooling space."
"We're delighted to recognize Clean Technology winners, the program's newest category. These outstanding companies are amongst the elite of Canada's technology sector as clean innovators helping create a more resilient and sustainable future for the environment," stated Anders McKenzie, partner and national leader for the Technology Fast 50 program at Deloitte Canada. "With reduction of our carbon footprint and environmental impact of paramount importance, this new category awards innovators spearheading the clean technology movement, creating the sustainable business and technology landscape of the future."
Eligibility in the Clean Technology category requires applicants to meet the same criteria as for Technology Fast 50 nominees except they must have a minimum revenue of $50,000 in 2017 and $5 million in 2020. The majority of the companies' revenues must come from products or services that have a positive environmental impact in the following areas: carbon emissions reduction potential, resources circulation (reduce, reuse and recycle), or environmental preservation and safety.
About the Deloitte Technology Fast 50™ program
The Deloitte Technology Fast 50 program is Canada's pre-eminent technology awards program. Celebrating business growth, innovation and entrepreneurship, the program features distinct categories, including the Technology Fast 50 ranking, Enterprise Fast 15, Clean Technology, and Companies-to-Watch. The program also recognizes companies within the North American Technology Fast 500 ranking, identifying technology companies in the United States and Canada. The 2021 program sponsors include Deloitte, RBC, EDC, Miller Thomson, Clarity Recruitment, and Lafond. For further information, visit http://www.fast50.ca.
About CoolIT Systems
CoolIT Systems specializes in scalable liquid cooling solutions for the world's most demanding highperformance computing environments. In the desktop enthusiast market, CoolIT provides unparalleled performance for a range of gaming systems. Through its modular, rack-based Direct Liquid Cooling technology Rack DLC™, CoolIT enables dramatic increases in rack densities, component performance and power efficiencies. CoolIT partners with the global leaders in OEM server design to provide the most efficient and reliable liquid cooling solutions, that provide high performance cooling for their own leading-edge products. Together, CoolIT and its partners are leading the way for widespread adoption of high-performance computing. For more information about CoolIT Systems and its technology, visit https://www.coolitsystems.com/.