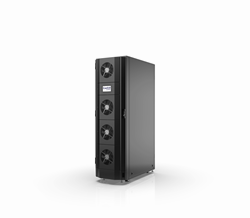 CALGARY, Alberta (PRWEB) May 23, 2023
CoolIT Systems, a leading provider of innovative liquid cooling solutions for data centers, proudly announces the expansion of its product portfolio to include the industry's first Direct Liquid Cooling (DLC) enabled Rear Door Heat Exchanger (RDHx). This announcement follows the recent news of KKR's acquisition of CoolIT, further solidifying the company's commitment to delivering cutting-edge advanced cooling technologies.
In today's rapidly growing data center industry, efficiency and sustainability are paramount. Data centers are expected to consume 8% of the world's electricity by 20301, necessitating the adoption of solutions that address this challenge effectively. CoolIT's RDHx makes available another advanced cooling technology to customers who already use CoolIT Direct Liquid Cooling, or who may be in the process of transitioning from inefficient legacy air-cooling systems.
CoolIT's DLC-enabled RDHx is an integral part of a comprehensive cooling ecosystem with unmatched product validation to the most stringent Direct Liquid Cooling requirements. It is the only RDHx warranty-approved to integrate with CoolIT's DLC technology, used by nearly every major server OEM.
"We believe that customers will increasingly require a diverse range of advanced cooling technologies," says Brandon Peterson, Senior VP, Product at CoolIT Systems. "From Direct Liquid Cooling to Rear Door Heat Exchangers, these technologies must seamlessly integrate with one another. Leveraging our extensive experience in liquid cooling product validation, system design, and deployment, we offer a solution that data centers can trust – whether as a standalone RDHx or an integral part of a warranty approved DLC system."
CoolIT Systems has been at the forefront of integrating RDHx and DLC technology since 2019, with a significant existing deployment footprint. CoolIT will be showcasing the DLC-enabled RDHx at Dell Technology World, booth #1526, from May 22 - 25.
To learn more about CoolIT Systems' expanded offerings, including the new Direct Liquid Cooling enabled Rear Door Heat Exchanger, and to explore the potential of integrating advanced cooling technologies into your data center infrastructure, please visit CoolIT's website at http://www.coolitsystems.com and on LinkedIn at http://www.linkedin.com/company/coolit-systems-inc-, or contact one of our experts at media@coolitsystems.com.
About CoolIT Systems:
CoolIT Systems specializes in scalable liquid cooling solutions for the world's most demanding computing environments. In the enterprise data center and high-performance computing markets, CoolIT partners with global leaders in OEM server design to develop efficient and reliable liquid cooling solutions for their own leading-edge products. In the desktop enthusiast market, CoolIT provides unparalleled performance for a range of gaming systems. Through its modular, Direct Liquid Cooling technology, Rack DLC™, CoolIT enables dramatic increases in rack densities, component performance and power efficiencies. Together, CoolIT and its partners are leading the way for widespread adoption of advanced cooling technology.
1 "On Global Electricity Usage of Communication Technology: Trends to 2030," Challenges, 2015.
Contacts
For CoolIT Media:
Brandon Peterson, SVP Product and Caroline Penrose, Director, Business Development
403-235-4895
media@coolitsystems.com