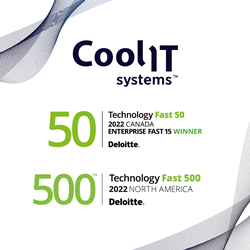 CALGARY, Alberta (PRWEB) November 16, 2022
CoolIT Systems (CoolIT) today was honoured with two prestigious awards from the 2022 Deloitte Technology Fast 500™ and Deloitte Technology Fast 50™ programs thanks to its 260% revenue growth from 2018 to 2021.
CoolIT was awarded the Deloitte Technology Fast 500 North America™, a ranking of the 500 fastest-growing technology, media, telecommunications, life sciences, fintech, and energy tech companies in North America.
In addition, CoolIT also won an Enterprise Fast 15 award as part of the Deloitte Canada's Technology Fast 50™ program, recognizing the fastest-growing enterprise-level technology, media, and telecommunications companies by revenue-growth percentage over their last four years of operation. This Enterprise Fast 15 leadership category is open to companies that recorded a minimum revenue of $10 million in 2018 and a minimum revenue of $25 million in 2021.
CoolIT Systems' CEO Steve Walton, credits CoolIT's outstanding technology portfolio, tier-1 server OEM customers and mainstream enterprise adoption of data center Direct Liquid Cooling for the company's ability to rise to a leadership position in their segment. Walton said, "With these awards, CoolIT has again been recognized as the innovation beacon, authority and educator to industry. We're excited to have blown past the inflection point of technology adoption since we've consistently led the market with our innovative products and services. We remain focused on scaling to support enterprise adoption of Direct Liquid Cooling by investing in people and infrastructure, while continuing to develop the products that will set future industry standards."
"This year's Enterprise Fast 15 winners represent a high level of excellence and success as members of Canada's elite in the technology sector," stated Anders McKenzie, partner and national leader for the Technology Fast 50™ program at Deloitte Canada. "With their bold vision for the future, impactful technologies, competitive drive, and passion for pushing the boundaries, these winners catapult Canadian innovation forward nationally and on the global stage. No doubt their successes are a source of pride and inspiration for all tech entrepreneurs."
"This year's Technology Fast 500 list is a true reflection of some of today's most determined and inspiring pioneers who have prospered by anticipating what's next, understanding what's needed to succeed and driving creativity forward," said Christie Simons, partner, Deloitte & Touche LLP and industry leader for technology, media and telecommunications within Deloitte's audit and assurance practice. "Representing all facets of technology, the winners have shown they not only have the vision but can also expertly manage their companies through rapid growth. We congratulate each winner on their impressive achievements."
About the 2022 Deloitte Technology Fast 500™
Now in its 28th year, the Deloitte Technology Fast 500 provides a ranking of the fastest-growing technology, media, telecommunications, life sciences, fintech, and energy tech companies — both public and private — in North America. Technology Fast 500 award winners are selected based on percentage fiscal year revenue growth from 2018 to 2021.
In order to be eligible for Technology Fast 500 recognition, companies must own proprietary intellectual property or technology that is sold to customers in products that contribute to a majority of the company's operating revenues. Companies must have base-year operating revenues of at least US$50,000, and current-year operating revenues of at least US$5 million. Additionally, companies must be in business for a minimum of four years and be headquartered within North America.
About the Deloitte Technology Fast 50™ program
The Deloitte Technology Fast 50 program is Canada's pre-eminent technology awards program. Celebrating its 25th anniversary, the program recognizes business growth, innovation, and entrepreneurship in four distinct categories: Technology Fast 50 ranking, Enterprise Fast 15, Clean Technology, and Companies-to-Watch. The program also recognizes companies within the North American Technology Fast 500 ranking, identifying thriving technology companies in the United States and Canada. The 2022 program sponsors include Deloitte, RBCx, Osler, EDC, CBRE, Vector Institute, Council of Canadian Innovators (CCI), Clarity Recruitment, Lafond, and TMX. For further information, visit http://www.fast50.ca.
About CoolIT Systems
CoolIT Systems specializes in scalable liquid cooling solutions for the world's most demanding computing environments. In the desktop enthusiast market, CoolIT provides unparalleled performance for a range of gaming systems. In the enterprise data center and high performance computing markets, CoolIT partners with global leaders in OEM server design to develop the most efficient and reliable liquid cooling solutions for their own leading-edge products. Through its modular, Direct Liquid Cooling technology, Rack DLC™, CoolIT enables dramatic increases in rack densities, component performance and power efficiencies. Together, CoolIT and its partners are leading the way for widespread adoption of high-performance computing.
For more information about CoolIT Systems and its technology visit https://www.coolitsystems.com/ and follow @CoolIT Systems on LinkedIn.