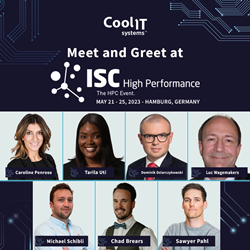 CALGARY, Alberta (PRWEB) May 23, 2023
CoolIT Systems, a leading provider of innovative liquid cooling solutions, invites attendees to join them at Booth #G719 at ISC High Performance 2023, the premier conference for high-performance computing (HPC) and related technologies. The event will take place from May 22 to May 25 in Hamburg. CoolIT Systems will present their newest advancements in Direct Liquid Cooling technology and offer precise solutions for high-performance computing challenges.
ISC High Performance is widely recognized as a significant gathering of industry experts, researchers, and practitioners who come together to explore cutting-edge developments in HPC, networking, storage, and more. As a prominent participant in the conference, CoolIT Systems is excited to showcase their latest cooling solutions tailored specifically for HPC applications.
At the CoolIT Systems booth, attendees can expect to gain insights into the company's advanced cooling techniques, including liquid cooling systems and direct liquid cooling. These solutions enable efficient heat removal and significantly enhance performance for HPC workloads. CoolIT Systems' team of experts, including Luc Wagemakers, Dominik Dziarczykowski, Caroline Penrose, Sawyer Pahl, Micheal Schibli, Tarila Uti, and Chad Brears, will be present at the booth to engage in discussions, share their expertise, and provide detailed information on achieving optimal cooling strategies in data centers to maximize computational capabilities.
One of the highlighted sessions at the conference will feature Sawyer Pahl, Program Manager from CoolIT Systems, who will present on the topic: "How should HPC and the power efficient data center team-up?" The session will address the increasing power requirements and heat generation in HPC racks, particularly in the Exascale era. Pahl will explore the significance of Moore's Law, chip power efficiency, chip packaging, and rack density improvements in tandem with direct liquid cooling. The presentation will shed light on the cost-saving benefits of direct liquid cooling in HPC data centers.
CoolIT Systems looks forward to engaging with attendees at ISC High Performance 2023 and providing them with comprehensive insights into the latest advancements in cooling technology for high-performance computing.
About CoolIT Systems:
CoolIT Systems specializes in scalable liquid cooling solutions for the world's most demanding computing environments. In the enterprise data center and high-performance computing markets, CoolIT partners with global leaders in OEM server design to develop efficient and reliable liquid cooling solutions for their own leading-edge products. In the desktop enthusiast market, CoolIT provides unparalleled performance for a range of gaming systems. Through its modular, Direct Liquid Cooling technology, Rack DLC™, CoolIT enables dramatic increases in rack densities, component performance and power efficiencies. Together, CoolIT and its partners are leading the way for widespread adoption of advanced cooling technology.
For CoolIT Media:
Daniele Soares, Marketing Manager
418 571.8182
daniele.soares@coolitsystems.com