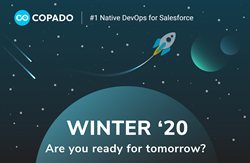 Copado DevOps 360 offers the fastest path to continuous innovation with embedded performance within the CI/CD DevOps cycle.
CHICAGO (PRWEB) November 06, 2019
Copado, a leading native DevOps platform for Salesforce, today announced its Winter 20 release to provide Salesforce customers the fastest path to continuous innovation. Winter 20 is the only 100% native, end-to-end CI/CD DevOps platform for Salesforce, enabling a data-driven DevOps approach. Organizations can now measure the performance of their digital transformation journey with embedded performance metrics, CI/CD best practices, real-time monitoring and team benchmarking using Salesforce Lightning Dashboards and Analytics.
State of Salesforce DevOps
DevOps has gained traction in Salesforce environments because most digital transformation strategies revolve around customer records and digital experiences. As organizations attempt to drive new digital customer experiences that dynamically adapt to more educated and savvy customers, they find they must frequently and continuously update what have become highly customized SaaS applications.
In the recent State of Salesforce DevOps report, research showed that DevOps dramatically increased the delivery performance of Salesforce implementations. Nearly 20% of respondents claimed ROI benefits in excess of $5 million and more than half declared more than $1 million in ROI from using DevOps. Furthermore, Elite organizations were nearly three times more likely to integrate changes at least daily and five times more likely to automate all of their deployments.
DevOps 360: Data-Driven DevOps for Salesforce
Copado DevOps 360 brings together all the DevOps data from Salesforce into a collaborative DevOps platform that tracks the innovation delivery performance of a Salesforce implementation. With DevOps 360, organizations can gain continuous insights to drive better performance. It allows organizations to break down silos and bottlenecks, enables teams to track their own workstreams, and delivers more predictable, higher quality releases.
Winter 20 offers the first end-to-end CI/CD pipeline for Salesforce. With the new CI/CD Pipeline Manager, Copado delivers unparalleled collaboration across teams. Copado acts as DevOps "air traffic control" with real-time pipeline visualization, pipeline configuration and filters and dynamic scroll.
New continuous integration (CI) features in Copado's Winter 20 release include:

Developer Command Line Interface (CLI) that allows developers to work completely within the IDE
Automatic Merge Conflict Resolution which supports team collaboration, reduces the amount of overwrites and enables easier digestion of metadata
Metadata Grid Update that allows users to quickly find and select the metadata needed with better filtering and faster operations
Copado added a series of robust continuous delivery (CD) capabilities in Winter 20, providing a new iterative way to both deploy and release specifically for the Salesforce platform. New CD features include:

Auto Deploy to enable automated and scheduled deployments and back promotions
Quality Gates to automated tests and manual approvals
Smart Behaviors to implement default behaviors with overrides as needed
MD Fast Lane to specify which metadata to expedite and which to inspect
Next Gen Pipeline View to track movement of changes through the pipeline
Dynamic Pipeline Editor which only requires two clicks to take any action
Advanced Data Deploy which enables release managers to deploy complex relational data easily and reliably between Salesforce orgs
"Salesforce will drive huge gains for the economy over the next five years, creating more than $1 trillion in revenues worldwide. The size and scale of Salesforce implementations is booming. For enterprises and systems integrators, operating Salesforce at scale is one of the biggest challenges they face," said Ted Elliott, chief executive officer of Copado. "Organizations relying on Salesforce as a cornerstone for their digital business projects need performance metrics and an understanding of how they stack up against industry standards -- this requires a true CI/CD process. Winter 20 offers continuous insights into the CI/CD pipeline to drive performance gains without sacrificing quality and security. This release is the most complete, end-to-end CI/CD platform built natively on Salesforce with integrations to the best-in-class DevOps tools and anchored on enterprise class security and compliance."
Copado will be conducting product demos of its DevOps platform and presenting six different sessions at Dreamforce, taking place Nov. 18-22 in San Francisco. The company will also be giving away signed copies of "Mastering Salesforce DevOps" -- a book for Salesforce developers, release managers and those managing Salesforce development teams that addresses how to bring DevOps principles to Salesforce development using proven practices that can make life easier and teams more effective. Additionally, businesses wanting to understand how they fare against both Salesforce and industry-standard metrics for development velocity, quality and security can receive a free DevOps assessment from Copado during Dreamforce 2019.
Additional Resources
Copado at Dreamforce: https://copado.com/dreamforce-2019/
LinkedIn: https://www.linkedin.com/company/copado-solutions-s.l/
Twitter: https://twitter.com/CopadoSolutions
About Copado
Founded in 2013, Copado is a leading DevOps platform for Salesforce. For enterprises wanting to accelerate their Salesforce deployments, Copado simplifies the release process, increases developer productivity and maximizes return on investment. The platform is comprised of Agile Planning, Release Management and Compliance & Testing. Backed by Insight Venture Partners and Salesforce Ventures, Copado counts more than 100 enterprises as customers, including Fair Trade, MassMutual, Shell and Vlocity. With more than 7,500 installations, Copado has received the top rating of 100 percent positive feedback on Salesforce AppExchange. More information can be found at: https://www.copado.com/
# # #
Salesforce and others are among the trademarks of salesforce.com, inc.