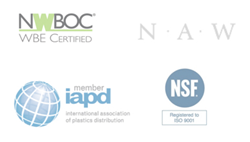 Alton, IL (PRWEB) October 08, 2015
Cope Plastics, Inc., the premier distributor and fabricator of plastic sheet, rod and tube in the Midwest, headquartered in Alton, Illinois is pleased to announce the launch of their eCommerce site: http://store.copeplastics.com/.
This new online store will allow Cope to sell remnants of stock shapes created from their manufacturing processes. The inventory will be updated frequently and will include various dimensions of plastic sheet, rod and tube. Material will include Acrylic, Polycarbonate, Acetal, Nylon, UHMW and much more.
This move will now allow Cope Plastics to reach consumer audiences, specifically those who are seeking small pieces of material for crafts, maintenance and home projects, etc.
Cope's Processing Center in Alton, IL will house the inventory for online sales. This facility is responsible for recycling both Cope's off-fall material, as well as material retrieved from Cope's customers. On average, this facility recycles more than 2 million pounds of plastic every year. As a company, Cope recycles over 90% of the materials that they sell.
About Cope Plastics, Inc.
Cope Plastics, headquartered in Alton, IL, is a leader in plastics fabrication and distribution serving a wide range of customers. Since its inception in 1946, Cope Plastics has grown to be the supplier of choice to over 8,000 companies involved in heavy equipment, agriculture, food service, oil & gas, aerospace, medical, transportation, and retail industries, among others. Cope Plastics prides itself on its award winning recycling programs and is one of the largest women-owned businesses in the St. Louis area. 
Visit us at http://www.copeplastics.com, or http://store.copeplastics.com/.