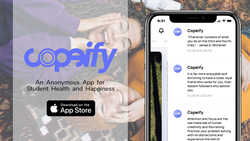 "What started for us as a mission to improve student health and resilience on one campus, has grown as a national mandate to deliver our remote wellness platform to the 43 million young adults and students in America." Drew Bartkiewicz, CEO Copeify
NEW YORK (PRWEB) April 07, 2020
Patriapps, the veteran-led software developer today announces $5M worth of software donations of Copeify, the only self-care and life-skills application for high schools, colleges and universities. The machine learning application is geared for all young adults, and is designed to build personal health and resilience without the need for any personal information.
As a result of the announcement, Patriapps will make Copeify available to all high schools, colleges and universities for free until the next academic year, or beyond, as the need for remote wellness technology has reached a new high point with the Coronavirus pandemic.
Copeify has been developed for young adults and teachers to anonymously grow their knowledge and practice of nutrition, motivation, health and mindfulness. The AI-enhanced content and questions (modeled after the Army's readiness, health and resilience programs) help young adults, students and faculty to help grow their life-skills and coping capabilities. The application creates better outcomes for young adults, like supporting paths to happiness and health, and reducing the frequency of depression, addiction and anxiety.
"As evidenced by the coronavirus, we are all reminded that complete wellness is not just the domain of one campus. Complete wellness for young adults is a continual, 24/7 condition and practice that can be learned by anyone, anywhere," said Drew Bartkiewicz, CEO of Copeify and Army combat veteran who graduated from West Point. "What started for us as a mission to improve student health, readiness and resilience on one campus, has grown as a national mandate to deliver our remote wellness platform to the 43 million young adults and students in America."
Copeify leverages the sciences of self-care and young adult development to gradually improve personal levels of happiness, health, kindness and resilience.
The global coronavirus has dramatically heightened the need for remote wellness platforms to be an essential part of all high school and college experiences. Copeify is the first to step into this void with a Software-as-a-Service (SaaS) model.
Without the need for any personally identifiable information, Copeify builds personal readiness and resilience with:

Smart notifications on the new aspects of coping and character, health and happiness.
Personalized articles and videos about healthy lifestyles, social skills and emotional intelligence.
Interactive CopeScores that gamify and offer tools to grow into a healthier and happier life.
Option for schools and colleges to use the platform for fundraising of wellness programs.
"Young people and those who teach them need to increase their coping capacities in a more regular and remote way, with complete privacy," said Major General Malcolm Frost, U.S. Army Retired. "Copeify is an intelligent and anonymous platform for both young adults and faculty to discover complete wellness in the same medium, so they can thrive in an academic and social environments and better combat both the uncertainties of COVID-19 and life itself.
Copeify is now available as a software donation to high schools, colleges and universities, and the organizations that support them. Issuance of the software as a service will be done on a first come, first serve basis.
Copeify is an American-made subsidiary brand of Patriapps, which commits the $5M software pledge on behalf of all veterans and health care workers exemplifying readiness and resilience. The CEO of Copeify, Drew Bartkiewicz, was the creator of award winning apps like lettrs and the personalized health intelligence system, Reservoire Health. He is the Chairman and founder of Patriapps Impact Apps.
Media Contact:
Jen Basco
Phone: 860.751.4321
Email: jen@copeify.com