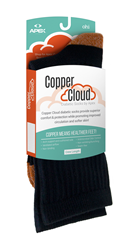 Teaneck, NJ (PRWEB) August 28, 2017
Apex Foot Health Industries, an OHI company, announced today the launch of its latest product, Copper Cloud diabetic socks. Said Jason Kraus, OHI President and COO, "The Apex product line represents the most beneficial and healthful footwear on the market for diabetics, and for anyone seeking top-quality, great fitting shoes. Copper Cloud socks are a perfect complement, finely crafted and offering the most comfort and protection of any sock on the market."
Ideal for helping protect against diabetic ulcers, Copper Cloud socks are designed to promote dry, odor-free feet while delivering ultra-comfort. Manufactured from premium-quality yarns containing the highest copper content of any sock on the market, Copper Cloud's antifungal and antibacterial properties are unmatched. Copper is also known as a healing-agent that stimulates improved circulation and softer skin.
In addition to its copper benefits, Copper Cloud's features include: a seamless design that curbs ulceration; moisture wicking for drier feet; ventilated airflow for temperature control; non-binding for improved circulation; heel and forefoot padding for added comfort; light arch support to relive achiness; Y-heel and toe construction for perfect fit.
Copper Cloud socks are available in four sizes (extra-small, small, medium and large), three styles (Crew length, Ankle and No-Show) and two colors (black and white).
Copper Cloud socks are available at http://www.apexfoot.com/copper-cloud
About Apex Foot Health
Apex Foot Health Industries, an OHI company, enjoys a 60-year reputation for designing and manufacturing the finest foot health products available anywhere. Our research and development team constantly explores and tests new ideas, technologies and materials to help improve the way people feel on their feet. Our comprehensive line of men's and women's footwear features industry-leading construction, top-quality materials, exceptional comfort and support, perfect-fit enhancements plus a fresh and exhilarating focus on style. Look and feel your best from heel to toe with Apex!
About OHI
Headquartered in Hauppauge, NY, OHI is the global leader in lower extremity DME technologies for healthcare providers who treat diseases associated with the extremities. It's growing family of industry-leading brands include Apex Foot Health Industries, Arizona AFO, Australian Orthotic Group, Langer Biomechanics, PedAlign, The Orthotic Group and SafeStep. Recognized as a pioneer in the manufacturing of custom foot orthoses, ankle foot orthoses and therapeutic footwear, OHI currently distributes medical technologies throughout North America, Europe and Australia/New Zealand.
Contact: Mark Lipsky, Director of Global Marketing, OHI
480-588-0853 Mark dot Lipsky at ohi dot news