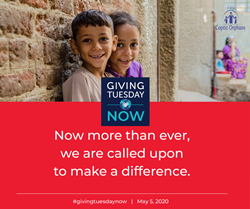 "Coptic Orphans has worked with GivingTuesday in the past," said Executive Director Nermien Riad. "And we believe it is imperative that we use the GivingTuesdayNow initiative as an opportunity to shed light on how COVID-19 is affecting the fatherless children of Egypt."
FAIRFAX, Va. (PRWEB) April 29, 2020
Coptic Orphans is responding to meet the needs of the fatherless children in Egypt by joining the #GivingTuesdayNow Initiative.
#GivingTuesdayNow is a global day of giving and unity, set to take place on May 5, 2020 as an emergency response to the unprecedented need caused by COVID-19. The day is designed to drive an influx of generosity, citizen engagement, business and philanthropy activation, and support for communities and nonprofits around the world.
"Coptic Orphans has worked with GivingTuesday in the past," said Executive Director Nermien Riad. "And we believe it is imperative that we use the GivingTuesdayNow initiative as an opportunity to shed light on how COVID-19 is affecting the fatherless children of Egypt."
Coptic Orphans has transformed the lives of more than 55,000 children throughout Egypt. Every year, thousands of fatherless children face crushing poverty at the loss of their family's primary breadwinner. Too often these children are left behind. Coptic Orphans seeks to provide each one of those children with access to the very best education along with positive mentoring so they can break the cycle of poverty, live fulfilling lives, and one day, change their own communities. The organization remains steadfast in its commitment to service during the pandemic.
"We are utilizing innovative methods to stay in contact with the children we serve while protecting the health of everyone involved," Riad said. "While the children wait out the virus in their homes, we have made plans to ensure they will be able to continue their education. We have begun by purchasing internet service for households so they can continue with remote learning and facilitating for volunteers to organize online tutoring sessions."
"As a global community, we can mourn this moment of extreme crisis while also finding the opportunity to support one another. We each have the power to make an impact with acts of generosity, no matter how small, and to ensure the sustainability of organizations and services that are crucial to the care and support of our communities," said Asha Curran, CEO of GivingTuesday.
Those interested in joining Coptic Orphans' #GivingTuesdayNow efforts can visit http://www.copticorphans.org/programs/donate-now/
For more details about the GivingTuesday movement, visit the GivingTuesday website (http://www.givingtuesday.org).
About Coptic Orphans
Coptic Orphans is an award-winning international Christian development organization that has transformed the lives of over 55,000 children in Egypt since 1988. We believe that through long-term programs that focus on education, we can affect the vicious cycle of poverty. To learn more, visit http://www.copticorphans.org.
About GivingTuesday
#GivingTuesdayNow is organized by GivingTuesday, in partnership with its global network of leaders, partners, communities and generous individuals. GivingTuesday is a nonprofit organization that is dedicated to unleashing the power of people and organizations to transform their communities and the world.