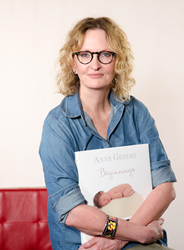 Each photographer's vision is like their signature, and we must band together and give each other the tools and the resources to keep our creations protected.
Atlanta, GA (PRWEB) April 21, 2016
Renowned photographer Anne Geddes experienced copyright infringement first-hand just a few years ago when a photo taken by her daughter – who is also a photographer – was illegally reproduced. Geddes continues to face copyright infringement daily – enough so that she is taking a public stand with Professional Photographers of America (PPA) to honor World Copyright Day on April 23, 2016 and offer new tools that professional photographers can use to understand their rights and protect their images.
Geddes, a PPA member since 1997 and mother of two daughters who work as professional photographers, has joined the campaign to help share the message of copyright importance through a public service announcement-style video produced by PPA. With Geddes' help, PPA hopes to educate visual artists about the importance of marking and registering their work while informing the general public about the important issue of copyright infringement and illegal image use.
"Many new photographers today don't understand the battle that we've fought for photographers owning copyright. It's critical to have your copyright on any images you've taken," says Geddes. "I remind all photographers that their images are the result of their creative talent, their individuality, and their livelihood. Each photographer's vision is like their signature, and we must band together and give each other the tools and the resources to keep our creations protected."
To educate policymakers and increase public awareness, PPA has launched a new advocacy website, CopyrightDefense.com, dedicated solely to explaining copyright protection and legislative changes, as well as helping photographers advocate for their rights. In addition, PPA is announcing several important resources to assist professional photographers:
1) Online Copyright Infringement Assistance Tool that allows PPA members, in just a few easy steps, to learn what their options may be when someone has violated their copyright and download the corresponding resources.
2) Copyright Protection Kit with marketing materials to help professional photographers protect their work and avoid infringement.
3) Copyright Advocacy Updates for photographers and visual artists to keep up with the latest news on copyright issues occurring on Capitol Hill.
PPA is also working in Washington D.C. to repair inequities in the nation's copyright system. The current copyright system in America works for low-volume, high-value creators but does not work for mom-and-pop businesses, which make up the vast majority of copyright holders.
"It is very promising that Congress is reviewing and beginning to address shortcomings in our nation's copyright system," said PPA CEO David Trust. "For more than ten years, PPA has advocated for specific, key changes which will expand copyright protection to small-business creators for the first time ever. The current congressional copyright review provides a greater opportunity to finally achieve our primary goal of a small claims enforcement option for copyright owners."
Aligned with the April 23 World Copyright Day effort, PPA is advocating for three actions related to copyright enforcement:
1. Creation of a small claims process for copyright enforcement. This would extend protection to hundreds of thousands of small business creators giving them an effective means of enforcing their intellectual property.
2. Modification to the copyright registration process. The current process is burdensome to high-volume visual artists like professional photographers, who can create more than 1,000 images in a weekend. Simple changes to visual arts registration procedures could greatly improve the process and increase participation in the registration process among visual artists.
3. Granting the U.S. Copyright Office the resources and authority necessary to effectively administer the law. The American copyright processes continue to fall behind the industries and the public they support, making them less effective and less relevant. The U.S. Copyright Office is in need of key modernization improvements so that it can effectively administer the law and implement change.
About PPA
Professional Photographers of America (PPA) is the largest international non-profit association created by professional photographers, for professional photographers. Almost as long-lived as photography itself, PPA's roots date back to 1869. More than 29,000 photographers belong to PPA as it helps them be more successful through protection, education and resources.