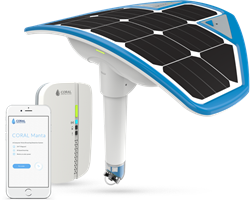 LOS ANGELES (PRWEB) May 21, 2019
Coral Detection Systems recently went to market with the first and only drowning detection system for residential swimming pools. The solar-powered Coral Manta 3000 uses advanced AI software and an underwater video camera to analyze, detect, and track all people in the pool 24/7 by utilizing an advanced algorithm to monitor and alert upon any entrance to the water, and more importantly, upon detection of risk of drowning.
Since its release, the state-of-the-art Coral Manta 3000 has already turned heads and today the company is announcing its partnership with Olympic Gold Medalist skier Bode Miller. The 6-time medalist will become a co-owner and serve as board advisor of the company.
Miller's commitment to drowning prevention is personal and, unfortunately, many other families can relate to his story. Last summer, Miller and his wife, Morgan, shared the tragic news that their 19-month-old daughter, Emeline, drowned in their neighbor's backyard pool. The Miller's have since dedicated substantial efforts in creating awareness around pool-safety. His partnership with Coral Drowning Detection is an incredible step towards preventing such tragedies from happening by helping kids stay safe around their home-pool environment.
After Emeline drowned, Miller went on to say that "her love, her light, her spirit will never be forgotten." Now he can truly carry out this message and play a role in educating the public on this matter while offering a solution to the problem. In many cases children drown even though the parent or a designated water-watcher is nearby, but drowning is quick and silent. Coral Manta 3000 will resolve these issues by providing an important layer of protection to children and adults, serving as a 24/7 "eye" within the pool — not only when they are accessing the pool unauthorizedly, but also when they are in and out the pool.
Emeline's story, along with many others, shows how necessary this technology is. Coral Manta 3000 was named after two 11-year-old girls, Coral Sheri and Or Koren, who drowned in Israel during the early development stages of the product.
Miller will advocate for this cause by discussing water safety and drowning prevention, while carrying on the memories of loved ones by sharing his — and the company's — story to help prevent thousands of tragedies worldwide.
The Coral Manta 3000 detection system uses Artificial Intelligence technology and an advanced algorithm to detect risk of drowning 24/7. The product's development, which started in 2014, has gone through rigorous testing and thousands of drowning simulations deeming the system the most innovative and affective detection system for residential pools. The Coral Manta 3000 can be used for both above-ground and in-ground pools and was developed and tested for pools of lengths up to eleven yards.
"This system offers a new and critical layer of safety and provides peace of mind like no other pool safety device does" says Eyal Golan, Founder & CEO of Coral Detection Systems. "Other pool safety devices such as fences, pool covers or pool alarms are important but only address the outer layer of safety by preventing unauthorized access to the pool. Thus, they need to be opened or de-activated when accessing the pool. Coral Manta 3000 on the other hand provides protection to children and adults also when they are inside of the pool – a safety layer which was not available until Coral's debut," he adds.
And this is not all. "When talking about drowning, people mainly think of children., but we must remember that 45% of all drownings are not children. For teenagers and adults a pool cover, fence or alarm are not really a barrier, yet Coral is always there," stresses Golan.
The detection system is a Plug and Play self-installed system that sends smartphone alerts and notifications when someone enters the pool or at any risk of drowning. It also provides in-home indication and alarms, offering real-time underwater images on demand. Compared to perimeter fences, pool covers, pool alarms, and swim bands, the Coral Manta 3000 is the only pool safety system that detects drowning and sends actionable alerts all while remaining on at all times. Noticeably, while alerts and alarms are also sent to your smartphone, the Coral Manta 3000 main function, which is to detect and alert on entrance to the water or on risk of drowning, works in the pool and in home even where cellular or Wi-Fi communication are not available.
Coral Manta 3000 is currently available online on the Coral Detection Systems web site and in the near future through select international retailers. For more information on Coral Detection Systems, please visit http://www.coraldrowningdetection.com.
About Coral Detection Systems
Coral Detection Systems was founded by Eyal Golan (Founder & CEO) and Dr. Tamar Avraham (Founder & CTO) both whom have over 20 years of experience within the software development industry. Currently, Coral Detection Systems primary product is the Coral Manta 3000 with plans for new products in the near future. For more information on Coral Detection Systems, please visit http://www.coraldrowningdetection.com.