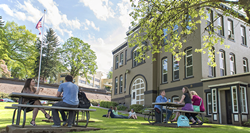 Dr. Sheldon C. Nord, President, says, "We're excited to announce these small but significant changes to some of the flagship programs at the University."
SALEM, Ore. (PRWEB) May 14, 2019
Corban University has announced several changes to its programs and offerings, specifically in the following majors: Health Science, Exercise Science, Psychology, and Business. These changes come on the heels of an intensive academic review, conducted by Corban's faculty, deans, and Provost, in order to ensure that each program best suits students' needs, preparing them for careers in their chosen fields and/or graduate school.
Dr. Sheldon C. Nord, President, says, "Faculty have played an instrumental role in this review, analyzing current trends in the marketplace as well as graduate school requirements, in an effort to ensure that students are receiving the training and prerequisites to enter graduate school and the workforce with a strong, competitive academic background. We're excited to announce these small but significant changes to some of the flagship programs at the University."
Changes are as outlined below:

The B.S. in Health Science will now be a B.S. in Biology (120 semester credits). This change was made in an effort to expand offerings beyond those relevant to a career in medicine. Now, students will have the option to earn a general biology degree, with a heavier focus on plant science, in addition to the pre-existing concentrations in biomedical sciences and biokinetics. Students will now be prepared not only for medical school and physical therapy programs, but also for careers in agriculture, environmental sciences, and ecology. In addition, Corban will be offering minors in Chemistry (22 semester credits) and Biology (23 semester credits).
The B.S. in Exercise Science will now be a B.S. in Kinesiology (120 semester credits). Although most changes to this program are small, the Sport & Recreation Management concentration, previously housed with the Hoff School of Business, will now be housed with Kinesiology, providing a stronger exercise and sport background while still giving students a solid foundation in business. In fact, the collaboration between the business department and kinesiology department is one of the hallmarks of this concentration. Meanwhile, Applied Kinesiology will offer students a more clinical approach, preparing them for graduate school in areas like occupational therapy, speech & language pathology, chiropractic medicine, and more.
The B.S. in General Psychology and B.S. in Pre-Counseling/Clinical Psychology will be combined into a single major, a B.S. in Counseling Psychology (120 semester credits). Previously, the General Psychology degree prepared students for a career in research, while the Pre-Counseling degree prepared students for a variety of helping professions or a master's in counseling. But the vast majority of psychology students come to Corban seeking a degree that will prepare them to make a direct, immediate impact in people's lives through counseling, social work, and community agencies. Thus, shifting to one Counseling Psychology degree will enable Corban to hone this program into one that more effectively meets students' needs and prepares them to achieve their goals. Corban University is already one of the few schools to offer such a counseling-heavy degree at the undergraduate level, and this distinction will only continue to grow with an array of new counseling concentrations, including Child & Family, Marriage & Family, Community Engagement, Trauma & Addictions, and Christian Counseling.
Finally, the Hoff School of Business will now have an additional concentration in Business Analytics (18 semester credits). This concentration joins four existing business concentrations: Leadership & Management, Marketing, Accounting, and Agribusiness.
These changes are largely small adjustments to already-strong programs, yet those small adjustments will make a huge difference setting students up for success in their careers and graduate school.
Dr. Mike Patterson, Provost, says, "This has truly been a collaboration among Corban's faculty and deans. A special thanks to Dr. Christina Cooper, chair of the Math & Sciences Department, Dr. Corey Gilbert, Full Professor of Psychology, and Dr. Doug Crowell, Associate Professor of Exercise Science, for their research and work on this monumental project."
About Corban University:
Corban is a private Christian university in the heart of the Willamette Valley. Situated on a forested hillside just outside Oregon's capital, Corban is located an hour from Portland, the Cascade Mountains, and the Oregon coast. Academic excellence at the undergraduate, graduate, and doctoral levels, as well as online, prepares students for careers as business leaders, educators, medical professionals, politicians, ministry leaders, and more. Expert faculty, a tight-knit community, and opportunities for local and global engagement provide for students' growth both in and beyond the classroom.
Learn more or apply at https://www.corban.edu/.