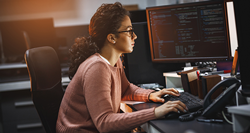 "We believe offering a four-year bachelor's degree in computer science will effectively prepare our students for increasing opportunities in a data-driven, data-rich world. - Dr. Tom Cornman, Provost
SALEM, Ore. (PRWEB) March 09, 2020
Corban University recently announced that they would be relaunching the bachelor's degree in computer science, beginning Fall 2020.
Dr. Tom Cornman, Provost, says, "We believe offering a four-year bachelor's degree in computer science will effectively prepare our students for increasing opportunities in a data-driven, data-rich world. While computer science majors will be especially equipped to meet today's data needs, even other majors will have the option to add a computer science minor and gain the analytical skills necessary for a world that relies heavily on data."
Joining the Corban Faculty Department to direct the program will be new hire Dr. Deborah Thomas, who earned her Ph.D. in Computer Science and Engineering from the University of Notre Dame. Most recently, Dr. Thomas served as Assistant Professor of Mathematics and Computer Science at Bethel University in St. Paul, Minn., and has also taught at Eastern Oregon University in the department of Computer Science and Multimedia.
Dr. Thomas says, "Computers are becoming more and more ubiquitous in our daily lives. As new applications are developed, we need programmers who can design and implement software for these various uses. There is always a need for programmers in any field, whether it be medical, financial, or even gaming. My vision for the program at Corban is to give students another career path to explore. Just as it is important to have Christians in fields like nursing and teaching, it is equally important to have programmers and developers who are Christians being a light in corporate settings."
Corban's decision to relaunch computer science arose from increasing demand, both from prospective students and from employers in today's marketplace. According to the Bureau of Labor Statistics, jobs for software developers are projected to increase by 21% between 2018 and 2028. (The national average for job growth is just 5%). In that same timeframe, jobs for computer and information systems managers are projected to increase by 11%, and jobs for information security analysts are projected to increase by 32%! This is just a snapshot of the way businesses are increasingly relying on data systems—and those who know how to implement them.
Incoming college freshmen who are interested in the program for Fall 2020 are encouraged to apply to Corban University now. https://www.corban.edu/
Learn more about Corban's computer science program: https://www.corban.edu/academics/majors-programs/mathematics-science/computer-science/
About Corban: Corban is a private Christian university with an 85-year history of educating students who will make a difference in the world for Jesus Christ. Situated on a beautiful forested hillside overlooking Oregon's capital, Corban is only an hour from Portland, the Cascade Mountains, and the Oregon coast. Academic excellence at the undergraduate, graduate, and doctoral levels, as well as online, prepares students for careers as business leaders, educators, medical professionals, politicians, ministry leaders, and more. Expert faculty, a tight-knit community, and opportunities for local and global engagement provide for students' growth both in and beyond the classroom.