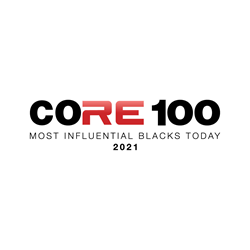 HOUSTON, Texas (PRWEB) January 19, 2021
CORE Multimedia Group releases the inaugural CORE 100 Most Influential Blacks Today. The CORE 100 honorees mark and remind the world of the beauty, boldness, and brilliance of Black Excellence at a time when the cultural, economic, and political landscape in the United States has grown increasingly more hostile towards Blackness. The CORE 100 will be announced in a series of communications leading up to the full presentation in the CORE 100 Special Issue Magazine on February 1, 2021.
The addition of the CORE 100 Most Influential Blacks Today to the CORE brand supports the vision of former professional baseball player, coach, and executive; and magazine founder, Mr. Bo Porter, to address the void of Black-owned, historical and culturally diverse publications. CORE Magazine blazes a trail with uplifting articles and a showcasing of unsung heroes often not found in mainstream media outlets.
The inaugural CORE 100 of influential individuals includes mayor of Atlanta, Georgia, Keisha Lance Bottoms; top 1% orthodontist and philanthropist, Dr. Heather Brown; National Institutes of Health viral immunologist, Dr. Kizzmekia Corbett; 17-year old Sauce Boss entrepreneur, Tyla-Simone Crayton; civil rights attorney, Ben Crump; vice-president elect, Kamala Harris; NBA player and social justice advocate, LeBron James; founder of Fair Fight Action, Stacey Abrams; mayor of Houston, Texas, Sylvester Turner; mayor of Newark, New Jersey, Ras Baraka; and media mogul and philanthropist, Oprah Winfrey.
CORE (Champion Of Real Excellence) Magazine debuted October 1, 2020 and each quarterly issue has distinct recurring feature stories: Ball2Business – former athletes who have successfully transitioned to the business sector; ME2me – professionals providing inspiration by sharing their lessons learned to their younger selves; Champions4Causes – service leaders in their profession and philanthropy; and A.P.E.X. (At the Pinnacle of Excellence Award), which highlights champions in sports, business, and leadership who exemplify the highest achievements in their respective fields. The February publication also includes an educational toolkit, which features the achievements of the CORE 100 and fun quizzes to broaden the knowledge base of Black Excellence.
Core Magazine is a publication of the CORE Multimedia Group. The digital subscription provides access to newsletters, special report articles, and subscriber-only cost-saving offers and rebates. Ten percent of CORE Magazine's profits are donated annually to charitable organizations.
About Bo Porter:
Bo Porter has more than 28 years of MLB experience as a player, coach, manager, front office executive and broadcast analyst. He is a proven leadership coach for high-profile executives and elite leaders in the sports industry. As a business development consultant, Bo provides tangible value by helping companies improve profit margins, and he's a change agent for organizations looking to enhance, reboot or pivot their strategic plan. He understands the value of team building, the challenges facing athletes when they transition to life after sports and the value add of transformational leadership. Known as the "Coach of Champions," Bo has coached, mentored, guided and influenced countless others to reach their full potential en route to championing their lives. Using his vast professional experiences, Bo has developed a holistic platform and become a force for all that is good. He is the founding president and CEO of CORE Magazine, a digital and print-on-demand quarterly periodical reaching millions of growth mindset readers in business, sports, leadership, philanthropy and marketing.
Aspiring leaders register for his Champions of Leadership Program to successfully navigate the ever-so-important world of sustainable excellence in business, and athletes at all levels utilize The END GAME Bridge to Excellence to prepare for life after sports. Bo also is a highly sought after keynote speaker and author. Read his books, subscribe to his podcast, and follow him on LinkedIn, Twitter, Facebook, and Instagram.