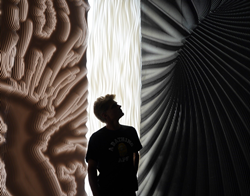 "We are excited to extend our strategic collaboration with Mario Romano and can't wait to unveil some exciting new additions to his decorative wall portfolio in 2021." said Maggie Ellis, DuPont residential marketing leader, Corian® Design
WILMINGTON, Del. (PRWEB) February 17, 2021
Corian® Design, a leading global brand in advanced surfacing solutions for interior design and architecture, and M|R Walls designer Mario Romano, have announced an extension to their strategic collaboration to produce custom decorative walls, designed with Corian® Solid Surface. The partnership will continue bringing some of the most unique and visually arresting projects to life.
"Mario brings new life to Corian® Solid Surface with his luxurious, high-end artistic creations," said Maggie Ellis, DuPont residential marketing leader, Corian® Design. "We are excited to extend our strategic collaboration with Mario Romano and can't wait to unveil some exciting new additions to his decorative wall portfolio in 2021."
Mario Romano's multidimensional wall panels are made from carved Corian® Solid Surface, using designs which enable seamless installation and unlimited scaling. Each wall panel is carved into interlocking puzzle pieces, then delivered and assembled on-site, offering a complete solution in one step. The finished walls are also waterproof, stain-resistant, and impervious to mold and bacteria.
"Corian® Design has been an incredible partner, opening the doors to a new level of possibilities in wall design," said Mario Romano, founder and creator of M|R Walls. "Our strengthened partnership will allow us to provide a new generation of wall designs in high-end structures around the world."
Many of the world's biggest companies along with designers and owners of well-known high-end homes have installed his designs, which serve as true centerpieces. Mario Romano is not just a visionary designer and creative fabricator; he also continually helps educate the market on the qualities and benefits of Corian® Solid Surface through inspirational project videos and photography.
For more information on Corian® Design's partnership with M|R Walls, visit https://www.corian.com/m-r-walls.
About M|R Walls
M|R Walls is an exclusive line of multidimensional walls carved and textured like second nature. Designed and made in Santa Monica, California, M|R Walls achieves an unlimited scale without any constraint. M|R Walls resounds with intricacy, bestowing the multidimensionality of light, complexity, and texture. Using Corian® Solid Surface, each piece is carved and labeled, then delivered and assembled on-site without any visible seams. Bonded together with matching adhesive, the walls are impervious to mold, virus, and bacteria. To see more from Mario Romano (M|R Walls), visit: https://mrwalls.marioromano.com.
About DuPont Water & Protection
DuPont Water and Protection is a global leader in creating water, shelter and safety solutions for a more sustainable world; enabling its customers to win through unique capabilities, global scale and iconic brands including Kevlar®, Nomex®, Tyvek®, Corian® Design, GreatStuff™, Styrofoam™, and FilmTec™.
About DuPont
DuPont (NYSE: DD) is a global innovation leader with technology-based materials, ingredients and solutions that help transform industries and everyday life. Our employees apply diverse science and expertise to help customers advance their best ideas and deliver essential innovations in key markets including electronics, transportation, construction, water, health and wellness, food and worker safety. More information can be found at http://www.dupont.com.
# # #
DuPont™, the DuPont Oval Logo, and all trademarks and service marks denoted with ™, ℠ or ® are owned by affiliates of DuPont de Nemours, Inc. unless otherwise noted. Greenguard™ is a registered trademark of Greenguard™ Environmental Institute.
For further information contact:
Wendy Werner
+1-302-415-2400
WENDY.ANN.Werner@dupont.com