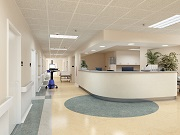 "Corian® Solid Surface in Widesheet Dimensions supports architects, designers and fabricators, so they can create solutions that solve the toughest design challenges," said Catherine Congress, Americas Commercial Marketing Leader at Corian® Design
WILMINGTON, Del. (PRWEB) January 26, 2021
Corian® Design, a leading global brand in advanced surfacing solutions for interior design and architecture, today announced Corian® Solid Surface in Widesheet Dimensions, enabling the fabrication of larger, more complex applications in North America. The new Corian® Widesheet Dimensions feature a Class A Fire rating, helping designers meet and exceed safety code requirements.
"Corian® Solid Surface in Widesheet Dimensions supports architects, designers and fabricators, so they can create solutions that solve the toughest design challenges," said Catherine Congress, Americas Commercial Marketing Leader at Corian® Design. "The product represents an expanded opportunity to serve our customers with a solution that can cover more space with less material waste and provide easier installation periods," added Congress.
The new Widesheet Dimensions offer quality and convenience with the added benefit of seamless design in larger, time-saving dimensions. With the same non-porous, easy-to-clean surface you expect from Corian® Solid Surface, the new offering eliminates the need to fill multiple seams and provides continuous performance.
By helping to optimize the fabrication process for faster installation, the new 60-inch widesheet boasts up to 26 percent in *cost savings, can be installed up to 50 percent faster and uses up to 50 percent less material as compared to standard 30-inch sheet sizes. Installers no longer need to join multiple, smaller sheet seams, meaning faster, less labor-intensive installation periods and less material for fabricators to inventory. *
In addition to being trusted by design communities around the world, Corian® Widesheet is Greenguard™ Gold Certified, contributes to green building practices and features LEED building accreditation. It's the perfect solution for large scale commercial applications and businesses, including Healthcare, Education, Food Service and Retail.
Corian® Widesheet is offered in a range of colors, from patterned veining to bright, clean, simple colors, including: Glacier White, Linen, Cameo White, Antarctica, Modern White, Rain Streak, Lavadrift and Crème Royale.
To learn more, contact your local distributor and explore new dimensions with Corian® Solid Surface in Widesheet Dimensions.
*This information was prepared only as a predictor of expected cost and not as a guarantee of cost saving. Cost savings based off a hospital room vertical application in Glacier White. Savings will vary depending on application, labor cost, and dimensions selected. Shipping estimates not included. Contact your local distributor for more information
About Corian® Design
Corian® Design, a division of DuPont Safety & Construction, is a global organization which creates, manufactures and markets advanced materials, products and solutions for interior design and architecture, originating from a foundation of world-class technologies and expertise. Marketed under the Corian® brand and the Make your Space™ tagline, its materials, products and solutions meet the most demanding requirements in terms of beauty, functionality and durability. The Corian® Design global portfolio is continuously evolving and it currently includes Corian® Solid Surface, Corian® Quartz, Corian® Elements and Corian® Exteriors. To know more about Corian® Design: http://www.corian.com or http://www.coriandesign.com.
About DuPont Safety & Construction
DuPont Safety & Construction, a DuPont Specialty Products Division business, is a global leader in products and solutions that protect what matters – people, structures and the environment – and enables its customers to win through unique capabilities, global scale and iconic brands including Corian®, Kevlar®, Nomex® Tyvek®, Styrofoam™ and Filmtec™.
About DuPont
DuPont (NYSE: DD) is a global innovation leader with technology-based materials, ingredients and solutions that help transform industries and everyday life. Our employees apply diverse science and expertise to help customers advance their best ideas and deliver essential innovations in key markets including electronics, transportation, construction, water, health and wellness, food and worker safety. More information can be found at http://www.dupont.com.
DuPont™, the DuPont Oval Logo, and all trademarks and service marks denoted with ™, ℠ or ® are owned by affiliates of DuPont de Nemours, Inc. unless otherwise noted. GREENGUARD Indoor Air Quality Certified® is a registered trademark of GREENGUARD Environmental Institute.
For further information contact:
Wendy Werner
+1-302-415-2400
WENDY.ANN.Werner@dupont.com