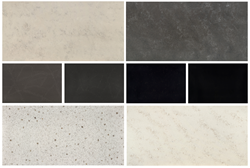 "These new Corian® Quartz colors offer an enviable design aesthetic for everything from the home kitchen to the restaurant dining room that make the everyday extraordinary." said Maggie Ellis, Residential Marketing Leader for Corian® Design
WILMINGTON, Del. (PRWEB) October 04, 2021
Corian® Design, a leading global brand in advanced surfacing solutions for interior design and architecture, launches eight new colors for its Corian® Quartz Portfolio for interior spaces and architecture. Additionally, two existing colors are now available in a leathered finish. Corian® Design is also unveiling a new, low sheen matte finish. These colors of Corian® Quartz are commercially available as of today, with the full color palette now including approximately 50 colors.
The new colors are divided into several unique collections, Cements (Neutral Cement and Carbon Cement) and Darks (Ironstone, Night Soapstone, Black Goldstone and Tahitian Sand), and two standalone colors, Alabaster Terrazzo and Beige Royale, as well as several new leathered finishes of top-selling polished colors, Ashen Gray and Stratus White.
Made with high-quality quartz crystals, Corian® Quartz is a durable, stain resistant, high-performance surface that survives the impact of daily wear and tear while retaining its good looks. Offering design flexibility in a wide range of vibrant colors, Corian® Quartz is perfect for countertops, bars, backsplashes and other applications.
"As commercial and residential design trends are shifting to meet consumer needs, we are offering a diverse portfolio of materials from a polished, high-sheen look to a leathered or matte, low-sheen style," said Maggie Ellis, Residential Marketing Leader for Corian® Design. "These new Corian® Quartz colors offer an enviable design aesthetic for everything from the home kitchen to the restaurant dining room that make the everyday extraordinary."
Additional information about the ten colors includes:
Cements – Inspired by a rugged industrial style yet refined with a subtle matte finish, the colors were designed to stand on their own or to be paired with other industrial-inspired looks in Corian® Solid Surface and Corian® Endura™ high-performance porcelain, to create a multi-material design.

Neutral Cement (matte finish) – Industrial in inspiration, warm and comfortable in execution, the light beige color lifts the visual weight and quiets the patterning within.
Carbon Cement (matte finish) – A bold industrial statement, the almost black hue with bold monochromatic movement offers a darker option for dramatic design.
Leathered – Part of the growing leathered collection, these leathered aesthetics stand on their own or can be coordinated with their glossy counterparts.

Ashen Gray Leathered (leathered finish) – A leathered version of a top-selling polished color with subtle veining on a light gray background.
Stratus Leathered (leathered finish) – A leathered version of a top-selling polished color with quiet touches of gray and beige on a cream background.
Dark – Available in matte and polished finishes, these aesthetics are designed to lift black from a classic color to an extraordinary presence.

Ironstone (matte finish) – Dark, warm gray with fine white veins, which invokes subtle strength.
Night Soapstone (matte finish) – Threadlike white veins on a black background, invoking a quiet sense of beauty, for those looking for a soapstone look with the durability of Corian® Quartz.
Black Goldstone (polished finish) – Fine gold-colored veining on a deep black background, a surface that gleams with presence.
Tahitian Sand (polished finish) – A confident and strong polished monochromatic surface with ultra-fine grains.
Alabaster Terrazzo (polished finish) – Mid-century inspired with unique, light-catching translucent quartz crystals, the distinct, premium Terrazzo aesthetic adds style and whimsy to any design space.
Beige Royale (polished finish) – With its warm subtle patterning, muted veins and particles create a surface that embraces multiple styles and design possibilities.
To learn more about the Corian® Quartz portfolio, visit https://www.corianquartz.com/-experience-the-new-aesthetics-of-corian-quartz-. Customers can also visualize the colors in their space by checking out the new Corian® Design Visualizer Augmented Reality app in the Apple Store or Google Play store.
About Corian® Design
Corian® Design, a division of DuPont Water & Protection, is a global organization which creates, manufactures and markets advanced materials, products and solutions for interior design and architecture, originating from a foundation of world-class technologies and expertise. Marketed under the Corian® brand and the Make your Space™ tagline, its materials, products and solutions meet the most demanding requirements in terms of beauty, functionality and durability. The Corian® Design global portfolio is continuously evolving and it currently includes Corian® Solid Surface, Corian® Quartz and Corian® Endura™. To learn more about Corian® Design: http://www.corian.com.
About DuPont Water & Protection
DuPont Water & Protection is a global leader in products and solutions that protect what matters – people, structures and the environment – and enables its customers to win through unique capabilities, global scale and iconic brands including Corian®, Kevlar®, Nomex®, Tyvek®, Styrofoam™ and Filmtec™.
About DuPont
DuPont (NYSE: DD) is a global innovation leader with technology-based materials, ingredients and solutions that help transform industries and everyday life. Our employees apply diverse science and expertise to help customers advance their best ideas and deliver essential innovations in key markets including electronics, transportation, construction, water, health and wellness, food and worker safety. More information can be found at http://www.dupont.com.
# # #
10/4/21
DuPont™, the DuPont Oval Logo, and all trademarks and service marks denoted with ™, ℠ or ® are owned by affiliates of DuPont de Nemours, Inc. unless otherwise noted.