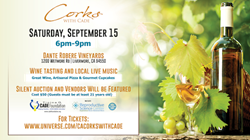 Joanne Brian, the Director of Practice Development at RSC shared "We are so thrilled to be able to bring Corks with Cade to the west coast. RSC wanted to give back to celebrate our 35th Anniversary. For many years our organizations have been working to break barriers and help create families."
LIVERMORE, Calif. (PRWEB) September 11, 2018
On September 15th, hundreds of families will come together at the inaugural California Corks with Cade fundraiser to celebrate the 35th anniversary of the Reproductive Sciences Center of the San Francisco Bay Area (RSC). The event will be held at the Dante Robere Vineyard in Livermore, CA. In the 35 years since RSC was founded, over 12,000 babies have been conceived and delivered to families with infertility. A central focus of the event will be celebrating RSC's support of thousands of families with infertility and also the strength and courage it takes for one to overcome infertility. Funds raised will support families with costs associated with fertility treatment and adoption.
The RSC will serve as the presenting sponsor for the Corks with Cade event. The goal is to raise $25,000 through the event for future grants for families with infertility.
"The event is our celebration of and for families. We have the opportunity to give back to the community while bringing families together to help others." – Camille Hammond, M.D., CEO and Co-Founder of the Cade Foundation.
RSC Director of Practice Development Joanne Brian shared "We are so thrilled to be able to bring Corks with Cade to the west coast. It is the perfect 'pairing' of organizations. RSC wanted to be able to give back to celebrate our 35th Anniversary and the Cade Foundation was the perfect recipient. For many years our organizations have been working diligently to break barriers and help create families."
At this year's event, which takes place from 6pm until 9pm, there will wine tasting, live music performed by the Las Positas Jazz Ensemble and music spun by DJ Jay Bee. While enjoying the wine and music, attendees will receive gourmet pizza and cupcakes. Attendees will receive a complimentary stemless commemorative wine glass.
The event's registration is available at https://universe.com/cacorkswithcade.
More information about Corks with Cade can be found at https://cadefoundation.org/eventdetail/15
Follow us on social media at:  Facebook https://www.facebook.com/CadeFoundation/  Twitter https://twitter.com/cadefoundation  Instagram https://www.instagram.com/cadefoundation/