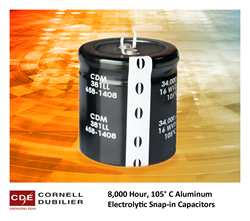 LIBERTY, S.C. (PRWEB) January 21, 2020
Cornell Dubilier Electronics, Inc. (CDE) introduces its 381LL series of long-life snap-in aluminum electrolytic capacitors. The series, designated with an expected life of 8,000 hours at full-rated conditions, demonstrates superb stability in capacitance and DC leakage current over time on test. The snap-in series is targeted for use in critical applications where long life and reliability are paramount.
Capacitance values range from 740µF to 100,000µF at working voltages of 16 to 250 WVDC with ripple current ratings up to 10 Amps @ 105 °C. The snap-in series is available in two pin configurations in the smaller diameters with 4 and 5 pin options in the larger diameters.
General applications include any circuit requiring high capacitance with low ESR, high ripple current and long life. This includes switch-mode power supplies, UPS systems, solar and other high-power inverters.
CDE's 381LL, long-life aluminum electrolytic capacitors are available from the company's franchised distributors. For inquiries, contact: Jim Navarro, Product Marketing Manager, jnavarro@cde.com, (864) 843-2277 ext. 2447. For more information on this series visit: http://www.cde.com/381-383LL.
Note to Editors: Since its founding in 1909, CDE has been dedicated to advancing capacitor technology for new applications. The company combines innovative products with engineering expertise to provide reliable component solutions for inverters, wind and solar power, electric vehicles, power supplies, motor drives, HVAC, motors, welding, aerospace, telecom, medical equipment and UPS systems. A global company, Cornell Dubilier has ISO-9001 certified manufacturing and distribution facilities in Liberty, SC; New Bedford, MA; Mexicali, Mexico; and Hong Kong.