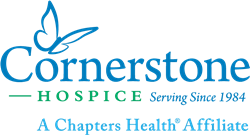 TAVARES, Fla. (PRWEB) January 23, 2023
Cornerstone Hospice & Palliative Care, a Chapters Health System affiliate, today announced it fulfilled the required amount of LGBTQ+ Competency Training to earn a SAGECare Platinum Credential. The SAGECare Platinum credential recognizes Cornerstone's commitment to providing an inclusive, non-discriminatory network of care.
To earn the SAGECare Platinum Credential, Cornerstone executives, administrators and team members took part in training to ensure a non-discriminatory environment for patients, care partners, families and employees.
SAGECare is a division of SAGE, which is the country's oldest and largest non-profit organization dedicated to improving the lives of LGBTQ+ older adults. SAGECare provides LGBTQ+ competency training and consulting on their unique aging issues to service providers.
"Holistic care is at the center of everything we do in hospice and chronic illness care," said Chuck Lee, chief administrative officer, and president of hospice operations at Chapters Health. "In order to do that, we must provide an environment that is welcoming to all patients, families, and team members. This recognition from SAGECare reflects our commitment to provide that environment to all the communities we serve."
Together, Cornerstone and SAGECare plan to serve people with the best care possible and help all age with dignity and respect, with the comfort of knowing they are celebrated for who they truly are.
About Cornerstone Hospice & Palliative Care
Cornerstone Hospice & Palliative Care, an affiliate of Chapters Health System, is a community-based, not-for-profit organization providing care and support programs to families impacted by life-limiting illnesses. Nearly 7,000 people in Hardee, Highlands, Lake, Marion, Orange, Osceola, Polk and Sumter counties in Florida and Cherokee, Cobb, Fulton, and Gwinnett counties in Georgia benefit from Cornerstone programs each year. Enhanced patient and family care is made possible through the generous support of individuals and groups. For more information, visit http://www.cornerstonehospice.org
About Chapters Health System
As a progressive leader and premier health system, Chapters Health System is dedicated to delivering innovative home health, palliative and hospice care along with durable medical equipment and pharmacy services. Since 1983 as a community-based, not-for-profit organization, Chapters Health has provided choices, education and guidance through its managed affiliates. All offerings are provided in order to improve the patient/family experience well in advance of end-of-life needs. In 2022, Chapters Health earned certified status for information security from HITRUST; for the fifth consecutive year was recognized as a great workplace in the Aging Services category by the independent analysts at the Great Place to Work® Institute; and in 2021 was named a Top Workplace by the Tampa Bay Times. To learn more, visit http://www.chaptershealth.org, like us on Facebook or follow us on Twitter and LinkedIn.