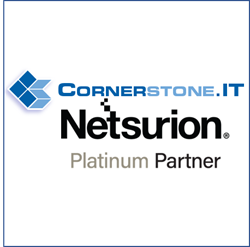 Cornerstone.IT's managed services align well with Netsurion's comprehensive platform to predict, prevent, detect, and respond to threats across users' networks.
NEW YORK (PRWEB) October 13, 2020
Cornerstone Information Technologies, LLC (DBA Cornerstone.IT) has partnered with cybersecurity firm Netsurion to boost Cornerstone's Managed Services with Netsurion's Managed Threat Protection Platform, EventTracker, which includes Security Information and Event Management (SIEM). This platinum partnership—the highest level of collaboration with Netsurion—will add to Cornerstone's already robust managed services.
"Cornerstone.IT's strategic partnership with Netsurion is a game-changer that sets Cornerstone.IT apart in the industry," said Jim Moreo, co-founder and co-owner of Cornerstone.IT. "Adding Netsurion's security services to our already robust managed services enables Cornerstone to provide our clients with a complete managed service offering. Our clients can sleep soundly at night knowing we are monitoring, maintaining, and protecting their IT systems 24/7."
Cornerstone offers an array of Managed Services including Network Monitoring with Cornerstone Watch, Network Maintenance, Network Support, iManage Managed Services, Citrix Managed Services, Microsoft Managed Services, Disaster Recovery as a Service, and Security Event Monitoring.
The Netsurion partnership enhances Cornerstone.IT's early event detection capabilities through Netsurion's flagship Managed Threat Protection Platform, EventTracker. EventTracker Essentials is a managed security solution powered by enterprise-grade technology built for small-to-medium-size businesses (SMBs). The EventTracker solution is packaged to deliver advanced threat protection with endpoint detection and response, plus IT compliance support for practical and cost-effective solutions. Their recent integration with MITRE ATT&CK® uses real-world techniques to better detect advanced cybersecurity threats.
The EventTracker solution combines endpoint protection, SIEM, vulnerability management, threat hunting, and a 24/7 SOC into a single, centrally managed, and fully integrated console. By partnering with Netsurion, Cornerstone.IT can provide clients with broader cybersecurity coverage, greater zero-time endpoint protection, and rapid threat detection and response.
"Netsurion is excited to launch this strategic partnership with Cornerstone.IT," says Guy Cunningham, SVP channel sales and alliances. "Their managed services align well with our comprehensive platform to predict, prevent, detect, and respond to threats across users' networks."
About Cornerstone.IT
Cornerstone Information Technologies, LLC (Cornerstone.IT) is an award-winning, full-service IT Business Solutions and Managed Services Provider. Cornerstone.IT monitors, maintains, and supports systems post-project, saving businesses time, money, and stress. A national leader in legal technology, founded in 2003, Cornerstone.IT also services the finance, accounting, and retail industries. Cornerstone engineers implement expertly designed systems with minimum disruption that keep businesses productive from anywhere. Cornerstone creates a productive and secure IT ecosystem from network infrastructure to collaboration tools to document management systems and managed services. To learn more visit Cornerstone.IT or follow us on Twitter or LinkedIn.
About Netsurion
Flexibility and security within the IT environment are two of the most important factors driving business today. Netsurion's cybersecurity platforms enable companies to deliver on both. Netsurion's managed platform approach of combining purpose-built technology and a team of cybersecurity experts gives customers and partners the ultimate flexibility to adapt and grow while maintaining a secure environment. Netsurion's EventTracker cyber threat protection platform provides SIEM, endpoint protection, vulnerability scanning, intrusion detection and more; all delivered as a managed or co-managed service. Netsurion's BranchSDO delivers purpose-built technology with optional levels of managed services to multi-location businesses that optimize network security, agility, resilience, and compliance for branch locations. Whether you need technology with a guiding hand or a complete outsourcing solution, Netsurion has the model to help drive your business forward. To learn more visit netsurion.com or follow us on Twitter or LinkedIn.
Cornerstone cares for your technology so you can care for your business.