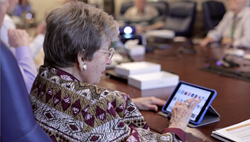 Not only do they get important up-to-the-minute information like the Coronavirus updates – Wellzesta encourages social interaction via the events and calendar feature. It's easy to RSVP to events and see who else is attending," says Brooks Shelley, Director of Marketing and Community Engagement
BELMONT, N.C. (PRWEB) June 19, 2020
The Coronavirus outbreak in the Seattle area nursing home has some seniors scared -- not only of infection, but increased isolation.
"Senior living communities like Aldersgate in Charlotte, NC provide immediate health updates via our software platform, so the right message gets to the right person at the right time," says Kyle Robinson, Co-founder of North Carolina-based Wellzesta, a health-tech company working with eldercare organizations coast-to-coast.
Each day, tens of thousands of seniors and their caregivers use Wellzesta products to stay connected and engaged. The mean age user of the Wellzesta Life software solution is 84, and 79% of subscribers use the App daily. The elderly are more susceptible to the virus according to health care experts and as a result, may face fewer visitors either by facility restrictions or fear from loved ones.
Seniors who experience social isolation or loneliness may face a higher risk of mortality, heart disease and depression, says a newly released report from the National Academies of Sciences, Engineering and Medicine (NASEM), a Washington, D.C.-based nonprofit, nongovernmental organization.
"Our 500 residents at Aldersgate all get iPads along with training on the Wellzesta app -- our main point of contact. Not only do they get important up-to-the-minute information like the Coronavirus updates – Wellzesta encourages social interaction via the events and calendar feature. It's easy to RSVP to events and see who else is attending," says Brooks Shelley, Director of Marketing and Community Engagement.
Seniors can stay engaged by signing up for sponsored events (they can see who is attending), do their own health journaling, or consume on-demand wellness articles and videos. Digital assistants, and digital coaches personalize the experience.
"We always get great info from resident association meetings, but when anyone asks me where to find information, I tell them to look at Wellzesta," says an 84-year old resident of four years at Aldersgate (a Life Plan Community in Charlotte, NC.)
AI App Helps Seniors & Caregivers Stay Informed & Engaged
"The Wellzesta AI platform is super useful – it enables us to instantly communicate important information and tips to our caregivers and clients," says Bill Osborne, Owner, Right at Home -- a Veteran approved home care agency with offices in Belmont and South Charlotte, NC. Osborne knows a lot about upper respiratory illnesses - having worked on a critical care helicopter flight team for nine years. As a Registered Respiratory Therapist and Adult Critical Care Specialist with a BA in Health Sciences and Management, Osborne has a deep understanding of virus symptoms and the urgency to share precautions for everyone to stay safe.
"Our caregivers rarely use email while working. Texting isn't efficient. With Wellzesta's Thrive, they log on to a password-protected platform, which has everything for them in one place," according to Osborne.
"Wellzesta Thrive is like a security blanket – it keeps me up to date on fun, food and future regarding my work and the world. I share exercises, articles and videos with my clients, which helps us both de-stress and stay healthier," says caregiver Denise Brown, Right at Home, Charlotte.
About Wellzesta, Inc.
The company's name, Wellzesta is a combination of two words: WELLness and ZEST for life.
Dr. Robinson is the CEO of Wellzesta Inc. Dr. Robinson received a BA in Biophysics from the Johns Hopkins University, and a combined MD + PhD (Biochemistry & Molecular Genetics) degrees from the University of Alabama at Birmingham. Co-founder, Kyle Robinson has spent her entire career in senior care and has a BA from University of North Carolina at Chapel Hill and earned two Masters in Health Care Communication and Gerontology.