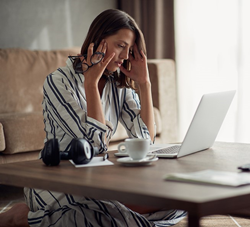 Cyber criminals love a crisis. Using emotional appeals and a sense of urgency, they trick users into surrendering sensitive information or unknowingly downloading malware.
HOBOKEN, N.J. (PRWEB) March 25, 2020
Messaging Architects, an eMazzanti Technologies Company and email security consultant, examines the increased cyber security risks as working from home numbers more than double in a new article on the Messaging Architects website.
The informative article also shares several signs of coronavirus phishing attacks to help remote workers recognize them. The author then lists four tips for organizations to protect against the increased risks of remote work.
"Cyber criminals love a crisis. Using emotional appeals and a sense of urgency, they trick users into surrendering sensitive information or unknowingly downloading malware," stated Greg Smith, Vice President of Services Delivery at Messaging Architects.
Below are a few excerpts from the article, "Coronavirus Phishing Attacks Target Remote Workers."
"While advances in network technology and mobile devices have made work at home possible, remote work increases the attack surface and, consequently, the risk. Employees often work outside the usual security perimeter from home networks already crowded with IoT devices like gaming consoles, TVs and appliances."
"These home networks (or, worse, public Wi-Fi) often lack the security measures of corporate networks. And in a crisis like this pandemic, criminals count on the changing work environment to overwhelm and distract IT departments. Security professionals must address the challenge of protecting hundreds of new devices while providing additional avenues for workers to connect."
Enlist Expert Help
In uncertain times, the last thing IT managers need is to add panic about email security to their list of worries. Instead, they should partner with a trusted email consultant and cyber security provider to implement the necessary protections that will provide peace of mind.
The experts at Messaging Architects, an eMazzanti Technologies company, conduct comprehensive risk assessments and implement cyber security defense measures to guard against coronavirus phishing attacks and other threats to business networks.
Prepare employees to work remotely
Small and mid-size business leaders need professional cyber security and guidance to keep employees working remotely productive. Click for a summary of remote work services provided by eMazzanti technologies.
Get help with remote set up
Reach out to eMazzanti Technologies for a NO CHARGE- 20-minute consultation that will answer any questions regarding remote, work-from-home setup.
Call eMazzanti 844-360-4400 or Email info@emazzanti.net
Have you read?
Working Remotely, What You Need to Know
Data Backup Best Practices Increase Productivity and Secure Vital Intellectual Assets
About Messaging Architects
Messaging Architects specializes in effectively managing and securing an organization's most precious asset, its information. With over 20 years of information management and technology consulting experience, the Messaging Architects team has provided corporations, educational intuitions, health care facilities and nonprofits with methodologies, procedures and technology to keep their data organized, compliant and secure.
About eMazzanti Technologies
eMazzanti's team of trained, certified IT experts rapidly deliver increased revenue growth, data security and productivity for clients ranging from law firms to high-end global retailers, expertly providing advanced retail and payment technology, digital marketing services, cloud and mobile solutions, multi-site implementations, 24×7 outsourced network management, remote monitoring and support.
eMazzanti has made the Inc. 5000 list eight consecutive years, is a 4X Microsoft Partner of the Year, the #1 ranked NYC area MSP, NJ Business of the Year and 5X WatchGuard Partner of the Year! Contact: 1-866-362-9926, info@emazzanti.net or http://www.emazzanti.net Twitter: @emazzanti Facebook: Facebook.com/emazzantitechnologies.