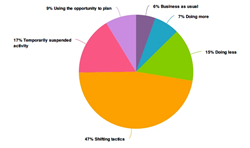 "...now is not the time to sell, it's the time to show empathy and support through delivery of relevant, informative and encouraging communication."
CHICAGO (PRWEB) April 13, 2020
A substantial majority of marketers have either altered or completely suspended their marketing activities in response to the Coronavirus pandemic, according the results of a new survey.
Of 127 digital, public relations and marketing communications professionals who responded to a poll* conducted by Chicagoland B2B marketing agency Element-R Partners, LLC, 74 percent said they changed course or temporarily ceased activities. Twenty six percent stated they have not altered their approach.
Asked to describe their current activity (Figure A), 47 percent said they have changed course and 17 percent have temporarily ceased activities. Fifteen percent are doing less. Almost nine percent are using the opportunity to plan, while seven percent have increased their marketing efforts. Six percent said it is business as usual.
"After seeing news stories about consumer reaction to routine marketing at the onset of shelter in place orders and business closures, the tone-deafness in some of the messages prompted us to take a temperature of how marketers themselves were feeling and reacting," says Bob Reed, partner and co-founder of Element-R. "We were interested to learn exactly where they are focusing in response."
When asked about how they felt about marketing calls and emails from companies with business-as-usual messages, 29 percent indicated they were 'highly annoyed', while 32 percent said they were "somewhat annoyed" by the outreach. Twenty-seven percent were neutral on the question. Twelve percent said they weren't bothered.
Activity Shift
Many of the 47 percent who indicated a shift in their approach and activities said they are directly addressing the impact of the Coronavirus in their outreach, as well as using the time to plan both internal and corporate initiatives.
Being "smart, strategic and not tone-deaf" and "working to generate good-will" seem to be the consensus here. Helpful content and a renewed emphasis on social sharing appear to dominate as the best ways to connect and reinforce relationships with customers and important publics, as this sample of verbatims shows:

Looking to make contacts/partners for future engagements -- not trying to sell or close deals.
Personal emails and calls to clients and pipeline.
Only tips/help-based, free info of immediate value; rounding up of resources or offers to help. Upbeat social media for WFH.
We're shifting more towards adding value, building future relationships and being encouraging to people. It's more relationship building than traditional marketing.
Employee communications.
Generating owned content specified on solving new problems.
According to one respondent, "What is appropriate and relevant is changing hourly, so we are re-evaluating everything on a case by case basis."
Back to Normal?
So, when do marketers expect to re-engage normal marketing activities? Nearly half, 48 percent, are waiting to see signs of normalcy. Respondents said when "quarantines are lifted," "settling into a new normal," "new cases lessening significantly," and when "the curve is flattened."
Another 26 percent said they don't know. For the more optimistic or anticipatory among the respondents, 12 percent said they'll resume their normal outreach in three to five weeks. Fourteen percent indicated a resumption of normal operation over the next one to two weeks.
"While some marketers have made the decision to keep moving with their existing marketing plans, most others' reading of customer and prospect receptivity to messages comes down to simply this: now is not the time to sell, it's the time to show empathy and support through delivery of relevant, informative and encouraging communication," says Reed.
Full survey results are available at http://www.element-r.com/coronavirussurvey.
*Poll conducted from March 23 – 30, 2020
About Element-R Partners
Element-R Partners, LLC helps small to mid-market B2B companies develop more relevant and meaningful brand positioning and messaging that advances sales receptivity for medical device, professional services, finance, industrial, software, and not-for-profit organizations.
Media Contact:
Bob Reed
bob@rurelevant.com
630-579-1770