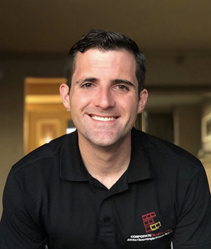 "I am ecstatic about being recognized by the NGLCC as an LGBT minority-owned business. We value the humanization of companies, and to be recognized by the National LGBT Chamber of Commerce as a gay business owner is extremely gratifying." - Trevor Rappleye
LOS ANGELES (PRWEB) September 09, 2019
Corporate Filming is proud to announce its recent certification as an LGBT Business Enterprise (LGBTBE) on August 15, 2019 through the National LGBT Chamber of Commerce (NGLCC) Supplier Diversity Initiative.
This certification creates opportunities for Corporate Filming with the ability to be eligible to participate in the NGLCC's corporate partners' supplier diversity programs and will work towards connecting with the vast educational opportunities promoted by the NGLCC. Corporate Filming joins over 200 corporate partners to increase diversity within the business community, worldwide.
"I am ecstatic about being recognized by the NGLCC as an LGBT minority-owned business. We value the humanization of companies, and to be recognized by the National LGBT Chamber of Commerce as a gay business owner is extremely gratifying. We aim to continue to grow as we personally tell stories to help businesses around the world grow," said Corporate Filming CEO and Founder, Trevor Rappleye.
The NGLCC is known as the business voice of the LGBT community and serves as the nation's exclusive certifying body of LGBT- owned and operated businesses.
"We are so pleased to welcome Corporate Filming to the ever-expanding of NGLCC certified LGBT Business Enterprises and the hundreds of corporations and government agencies eager to put them to work," said NGLCC Co-Founder and President Justin Nelson and Co-Founder and CEO Chance Mitchell. "According to NGLCC's groundbreaking America's LGBT Economy report, America's estimated 1.4 million LGBT business owners, many of them NGLCC certified, add over $1.7 trillion to the GDP and create tens of thousands of new jobs. We are proud to count Corporate Filming among those who prove every day that LGBT businesses are the future of the American economy."
About Corporate Filming
Corporate Filming is a national video production firm that drives profit to businesses through stories and emotions in video marketing. Corporate Filming offers national video production, monthly through subscription model for one annual price, as well as per project needed basis. Corporate Filming engages with a wide variety of industries such as Robotics, Franchises, Corporate Events, Non-Profit & Education, Tech & Software, Aviation, and more. For more information, visit http://www.CorporateFilming.net.
About NGLCC
The National LGBT Chamber of Commerce (NGLCC) is the business voice of the LGBT community and exclusive certifying body for LGBT-owned businesses. With more than 200 corporate partners, and 62 local, state, and international affiliate chambers, NGLCC is the largest LGBT business development and economic advocacy organization in the world.