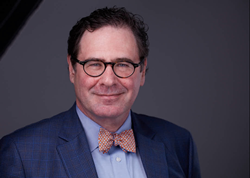 Mark Bulmash will "help drive the value of current and future assets in our portfolio that will impact areas for generations," said Dan Sink, CEO of Corporex.
COVINGTON, Ky. (PRWEB) August 17, 2020
Corporex Companies is pleased to announce the hiring of Mark G. Bulmash as a Development Executive. In this role, Bulmash will focus on expediting the next phases of Ovation, Corporex's mixed-use project in Newport, KY, and other current and future development projects, including the Companies holdings in the Denver area. (Corporex is the master developer for Ovation, a 25-acre mixed-use development comprising of more than 900 residential units, restaurants, retail, hotels, and offices.)
As former Senior Vice President of Development of The Howard Hughes Corporation, Bulmash has developed large-scale commercial and mixed-use projects and redeveloped/repositioned existing retail assets. He also had impressive tenures with Taubman Companies and Forest City Enterprises. Further, he has been responsible for sustainable development and brownfield redevelopment projects throughout his career.
"The Ovation project is another of Corporex's premier mixed-use developments," said Dan Sink, CEO of Corporex. "This high-profile project, with its unique appeal, landscape, and impact, will benefit from Mark's experience and expertise. Mark will also help drive the value of current and future assets in our portfolio."
"I am fortunate to have found a position at a company where I get to work with an amazing team and love what I do," said Bulmash. "I am really excited to be here."