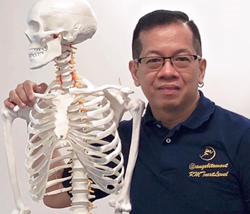 I am empowering my clients/patients to move & function better through manual therapy and corrective exercise programs.
SAN DIEGO (PRWEB) June 09, 2021
The BioMechanics Method, the highest-rated provider of corrective exercise education for fitness, exercise and health professionals, is pleased to name Angelito Inocencio as the 2021 Corrective Exercise Specialist of the Year®. This prestigious industry award recognizes an individual who is certified in The BioMechanics Method, currently providing corrective exercise services to clients/patients and has demonstrated exceptional application of their corrective exercise skills.
Angelito is a well-known and respected massage therapist and corrective exercise specialist based in Toronto, Ontario, Canada. In addition to his corrective exercise credential from The BioMechanics Method (TBMM-CES), he is a Registered Massage Therapist (RMT) with the College of Massage Therapists of Ontario and holds numerous other certifications in movement assessment and screening, functional training and massage. He provides services at two health clinics in the greater Toronto area and prides himself on being an "atypical" massage therapist who routinely utilizes corrective exercise to empower his clients to feel and function better. Since becoming certified as a TBMM-CES in 2016, he has used his corrective exercise skills to help over 3,600 clients mitigate pain, recover from injuries, and function better in their daily activities. Angelito has won the Greater Toronto area Reader's Choice Diamond Award for best RMT in 2020 and 2021, and credits his use of The BioMechanics Method in conjunction with his massage services as the secret to his incredible success. "Empowering and witnessing my clients'/patients' competence and confidence to move and function better is my great accomplishment as a therapist." says Inocencio. "I will keep expecting more possibilities and opportunities with The BioMechanics Method as a therapist, specialist, mentor, instructor and entrepreneur."
As the 2021 Corrective Exercise Specialist of the Year, Angelito will serve as a spokesperson on corrective exercise for The BioMechanics Method. He also receives an award trophy, an education package from The BioMechanics Method, a membership with IDEA Health & Fitness Association and equipment from industry leaders BOSU® and TRX Training.
Finalists for the 2021 CES of the Year award were Courtney Hudson, professional fast-pitch soft ball pitching instructor and owner of the Engineered Performance Lab in Huntsville, AL. and Cassidy O'Brien, Lead Personal Trainer at Phenom Trainers in Charlotte, NC.
ABOUT THE BIOMECHANICS METHOD
The BioMechanics Method is the provider of the world's highest rated corrective exercise specialist credential. The BioMechanics Method Corrective Exercise Specialist certification (TBMM-CES) teaches fitness, exercise and health professionals how to assess clients for common musculoskeletal imbalances and correct any issues they uncover through the use of targeted corrective exercises. Specialists trained in the BioMechancis Method have the ability to reduce pain, improve movement and enhance performance for clients of all ages and abilities. Specialists in The BioMechanics Method can be found in over 70 countries. Learn more at http://www.thebiomechanicsmethod.com.