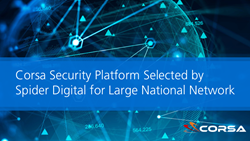 The Corsa Security solution makes it possible for our customer to handle growing traffic volumes with the push of a button...
OTTAWA, Ontario (PRWEB) May 13, 2020
Corsa Security today announced that their Network Security Virtualization Platform has been deployed by Spider Digital, a specialized System Integrator, into several telecommunications networks to provide traffic inspection and monitoring.
The Corsa Security solution, combined with Palo Alto Networks VM-100 Series next generation firewalls, allows the network to scale their traffic inspection quickly and easily - from 10 Gbps to many 100 Gbps of inspection - across more than 30 sites throughout the nation. This rapid deployment is critical for the network as it needs to address increasing traffic volumes for the country's communications systems.
"The Corsa Security solution makes it possible for our customer to handle growing traffic volumes with the push of a button," said Kazi Monirul Kabir, CEO Spider Digital. "All the different site inspection requirements can be addressed through a single dashboard, with each Corsa platform tuned for site-specific capacity and policy. Therefore, our customer only has to manage a single firewall configuration, instead of having to source different size firewalls."
With intelligent orchestration and turnkey virtualization, the Corsa Security platform provides the flexibility and elasticity that the monitoring centre needs to scale inspection capacity up to 240 Gbps at the largest site. Leveraging a single pool of firewall virtual machines (VMs), the centre can reshuffle VM licenses between sites to allocate inspection where it's most needed. This means the centre can pay-as-they-grow and only deploy the exact firewall capacity they need right now to achieve best in class TCO. The Corsa Security Orchestrator is integrated with the Palo Alto Networks Panorama policy manager, providing a single pane of glass for monitoring and policy management.
"Spider Digital quickly realized how the flexibility and elasticity of the Corsa Security platform was ideal for scaling traffic inspection across multiple network sites," said Eduardo Cervantes, CEO, Corsa Security. "We are proud to be working with this forward-thinking company to help solve their security challenges by adopting our best-in-class solution that scales traffic inspection with turnkey network security virtualization."
About Corsa Security
Corsa Security is the leader in scaling network security with the first turnkey network security virtualization platform that simplifies how large enterprises and service providers scale traffic inspection, including SSL/TLS encrypted, at much lower total cost of ownership (TCO). By tightly integrating virtualization with intelligent orchestration, Corsa Security streamlines deployment, management and operations of virtualized next generation firewall (NGFW) arrays for large networks. Customers subscribe to the Corsa Security service based on their traffic inspection capacity needs and then pay as they grow while never having to deal with the infrastructure. Learn how Corsa Security is revolutionizing network security at corsa.com.