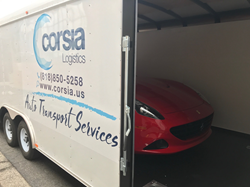 Above and Beyond Customer Service!
LOS ANGELES (PRWEB) September 11, 2018
Corsia Logistics has updated their website and has added new data to help customers understand the process, and their local markets. The new Service Areas section now complements the contents of Corsia's website. Local guides have been added, and continue to be added weekly. All guides include specifics about auto transport and the local market that will help shippers understand the shipping process better. In today's busy life, and crowded web spaces, the company wants to provide structured data to help customers make educated decisions when it comes to shipping a car.
The most important aspects customers want to understand is pricing as well as the technicalities of transporting a vehicle. Additionally, potential shippers want to know specifics about their geographical location, or about the location of delivery. Geographical guides are the best way to help customers understand how to ship a car to and from a specific location. City and state guides have been added, and continue to be developed, and added weekly, to help customers navigate the process of transporting an automobile across the country or the state.
Shipping from and to any city, or state, in the US has its specifics, especially if it is a less popular route. Distance and location are one of the most important factors when it comes to car shipping cost, alongside supply and demand fluctuations. Hence, Corsia is developing city to city and state to state guides that will help customers find the right information faster and understand the auto shipping process in a few easy paragraphs.
Corsia Logistics team always provides reliable information and reliable auto transport services. The team provides personalized attention from booking through delivery, and fair market rates for both carriers and customers, but most of all guiding steps as to how the auto transport works. The company is now matching this throughout their website, and specifically in their geo guides.
Corsia Logistics is a small, family owned company and its team understands the importance of transparency in all aspects of the business. By educating their customers, by being open about how auto transport works, and how price calculation happens, the company has achieved a steady growth. What brings people back is honesty, reliable information and reliable services. Now, by adding geographically specific guides Corsia validates their motto once again – "Above and beyond customer service!" Whether you are shipping a car from New York to California, or need to transport a car from Boston to Los Angeles, or anywhere from the east coast to the west coast, Corsia Logistics' guides will help you understand how it works.
ABOUT CORSIA LOGISTICS
Corsia Logistics is a California-based company and in the last few years it has expanded to provide auto transport services nationwide. Corsia Logistics offers free vehicle shipping quotes online or by phone, open, enclosed and expedited shipping nationwide. The company has earned the trust of thousands of customers already. Shippers can find abundant information on their website http://www.corsia.us , read customer reviews online or request business recommendations.