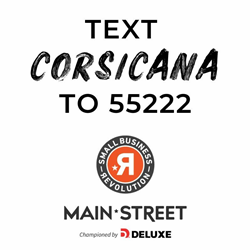 A vote for Corsicana is a vote for Texas. - Karie Denny, Main Street Corsicana
CORSICANA, Texas (PRWEB) February 07, 2019
Corsicana, Texas, a small town between Dallas and Houston is the only Texas city in a national competition to win $500,000 and a television feature. Its population can't generate the number of votes it will need, so Corsicana is asking every Texan to help.
Deluxe Corporation's "Small Business Revolution – Main Street" named Corsicana as one of the Top Ten towns in the annual competition. Next week, the announcement will be made if the town makes it into the Top Five – and then public voting begins.
"We need a million votes to win, so we are asking every Texan to help us. Just text the word 'Corsicana' to 55222," said Karie Denny, Main Street Director who is heading up the movement. "We'll do the rest – and remind you every day to vote."
To receive email notification, send an email with subject line "Vote for Corsicana" to corsicanamainstreet(at)gmail(dot)com.
Denny devised the "get ready to vote" idea to help the city win against nine other towns outside of Texas. "We have one major advantage in this contest over every other city: We're in Texas, and Texans Win."
She's asking that everyone in Texas take 20 seconds to subscribe to the text notification. On February 12, subscribers will be notified if Corsicana makes it to the Top Five, when voting will take place everyday for a week.
The winning city will be featured in Season 4 of HULU television's Small Business Revolution – Main Street show featuring Amanda Brinkman, Chief Marketing Officer for Deluxe Corporation. The winning city also receives $500,000 in revitalization marketing assets and funds.
Mayor Don Denbow, a native of Corsicana, is not surprised that the city caught the attention of Deluxe Corporation and their Small Business Revolution program. "Corsicana is going through a revolution of its own, becoming a choice for people to open businesses, for artists to enjoy an inspiring environment, for people who choose to build their own community," he said. "Now, with the possibility of a national television show featuring all that is great here, visitors considering a trip to Texas will make sure their route includes Corsicana."
Corsicana will find out the names of the Top Five cities at the same time as the other cities in the running. Karie Denny isn't waiting for the announcement. "We are in it to win it," she said. "Now get your phone out and subscribe. A vote for Corsicana is a vote for Texas."
All announcements regarding Season 4 can be found on SmallBusinessRevolution.org and Corsicana updates will be on Corsicana Main Street's Facebook #mycorsicana
About Deluxe Corporation
Deluxe is a growth engine for small businesses and financial institutions. Nearly 4.4 million small business customers access Deluxe's wide range of products and services, including customized checks and forms, as well as website development and hosting, email marketing, social media, search engine optimization and logo design. For approximately 5,600 financial institution customers, Deluxe offers industry-leading programs in checks, data analytics and customer acquisition and treasury management solutions including fraud prevention and profitability. Deluxe is also a leading provider of checks and accessories sold directly to consumers. For more information, visit http://www.deluxe.com or http://www.facebook.com/deluxecorp.