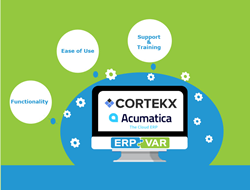 "Cortekx has demonstrated Acumatica platform master proficiency to meet customers' growing business automation demands, we are proud to introduce them to potential Acumatica clients," Adrian Montgomery, Founding Partner ERPVAR
DANA POINT, Calif. (PRWEB) May 14, 2020
ERPVAR.com announces a strategic partnership with Cortekx, a leading provider of Acumatica Cloud ERP software. The ERPVAR directory for Acumatica partners highlights Cortekx offerings.
Cortekx is committed to helping clients in the supply chain and manufacturing market segments resolve critical business challenges with business automation tools. For over 25 years Cortekx has achieved this by providing high-performance cloud ERP solutions, expert consulting and excellent support to help clients maximize efficiency and positively impact profitability.
About Cortekx
Cortekx has been successfully implementing ERP solutions since 1995, such as Microsoft, Sage, NetSuite and now Acumatica. Our mission is to help you buy the right software with the right configuration for your needs, team up with you and your staff to work together to bring about change, and realize that change as it positively impacts your bottom line.
We are Acumatica Gold Certified partners, and we utilize a proven implementation methodology to take you and your team through the implementation phase by phase to success. Our aim is to make the process simple yet effective and to ensure you get the results you need while controlling the cost of a new system.
About ERPVAR
Established in 2012 and headquartered in Orange County, CA, ERPVAR represents the collective expertise of Acumatica, Sage 100cloud, Sage 300cloud, Sage Intacct, Microsoft Dynamics GP, NetSuite and QuickBooks Enterprise third-party developers combined with the expertise of local implementation ERP consultants. These local ERP consultants provide end-users with a thorough needs analysis to determine which ERP software functionality is required to address their unique needs. If a business process assessment is required, the local channel partner is enlisted to provide a comprehensive examination with end-user company departments to ensure the correct ERP software is selected, implemented and the staff is professionally trained. For more information, please visit https://www.erpvar.com.