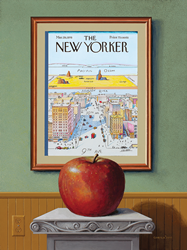 New York City's great energy and promise called me from the Midwest to her teeming streets half a century ago, and her vitality has not lessened in the years since then. --Jenness Cortez
AVERILL PARK, N.Y. (PRWEB) November 19, 2019
A new solo exhibition entitled "New York Stories" by internationally acclaimed painter Jenness Cortez will be held at Cavalier Gallery 3 W. 57 Street, New York, November 21 through December 31, 2019. An opening reception with the artist in attendance will be held at the 4th floor gallery on Thursday, November 21, from 6 to 8pm.
"New York Stories" is a celebration of the iconic and familiar views of the city. The wonder of the bright and vast skyline of Manhattan is familiar to New Yorkers and tourists alike, but in Cortez's paintings she presents New York from an intimate perspective. In her paintings, viewers are drawn into the cozy, luxurious interiors of living rooms with nighttime skyline views, an elegant terrace viewing the Empire State building, and even the warmth of the subway on a rainy day. Also included are her signature still life paintings featuring meticulously detailed renderings of famous paintings by artists such as Childe Hassam and illustrator Saul Steinberg.
Cortez is a distinguished figure in the contemporary revival of classical realist painting. Cortez was born in Indiana and studied at the Herron School of Art and later at the Art Students League under Arnold Blanch. Cortez enjoys an accomplished career portraying a variety of subjects. For twenty years (1977-1996) she became renowned for skillfully portraying horses––most notably, thoroughbred racehorses. At the beginning of the 21st century, Cortez began to portray "art in art," masterfully depicting still life scenes featuring famous pieces of art, several of which will be included in this exhibition.
The artist has been exhibiting her work since 1975 and has had more than 40 solo shows throughout the United States. Her work is in numerous public and private collections, including those of the late-President Ronald Reagan, President Bill Clinton, Governor George Pataki, Governor Hugh Carey, HM Queen Elizabeth II, the New York State Museum, Skidmore College, and SUNY Empire State College.
In discussing her latest "New York Stories" exhibition, Cortez explains "In this technological age the once-prized disciplines of seeing, drawing, and painting what's been seen, can be too easily regarded as antiquated crafts. I work these days in opposition to that dismissive notion and in support of realist art's more subtle gifts.
"Among teachers of these traditional arts an old adage is still common. It's simply this: We don't really know a thing until we draw it; the subject's never truly seen until its secrets have been discovered by our sustained and focused attention.
"In my long career that rule has proven to be true. The artist finds unexpected gifts in such work, and it's my belief that these are gifts that can be transmitted to the sensitive viewer as well. In many ways, attention and love are synonyms, and both are contagious. So, the pleasures the artist found in the seeing and the making, do still reside in the finished work––waiting to affect their attentive audience. No image wrought in pixels has the physical presence or power I'm referring to here. What's created by the living eye and physical hand is received at both sense and metaphysical levels, in a unique way.
"That time-tested idea has been working in me as I prepare this themed show about New York City. Looking at The City from so many different angles has been a rewarding return to explorations made in student days. Her great energy and promise called me from the Midwest to her teeming streets half a century ago, and her vitality has not lessened in the years since then. Some deep part of me will always be ready to respond to her with an open heart, and I remain grateful for her inspiration.
"Eyes, hand, heart and mind have joined forces in seeing, drawing and painting these stories. May they speak to the eyes, hearts and minds that can receive them with pleasure."
Since 1977, Perlmutter Gallery in Averill Park, New York has been the exclusive representative of artist Jenness Cortez.