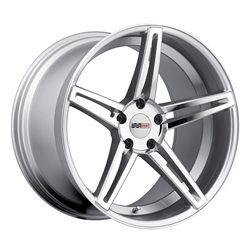 We're pushing Corvette performance in the direction 'Vette owners demand with our light-alloy, precision manufacturing methods
Huntington Beach, CA (PRWEB) September 23, 2014
Corvette owners searching for aftermarket Corvette wheels that are larger and wider than their OE wheels and that also add gobs of charisma and a personalized touch need look no further than http://www.craycorvettewheels.com. Cray Wheels' website introduces shoppers to thirteen different combinations of models and finishes that fit 30 years of Corvette sports cars in diameters of 17, 18,19 and 20 inches and widths up to 12 inches.
"Corvette owners, more than any other make, are obsessed with giving their vehicle a unique identity," observed Cray Wheels President Terence Scheckter. "Chevrolet indulges this obsession with a lengthy option list. We at Cray go a step further with a lineup of classic and cutting edge Corvette wheels that truly set Corvettes apart from the crowd."
Focused on design, engineering and manufacturing wheels solely for Corvettes, Cray understands the critical importance of achieving precisely the right offset, both front and rear, for each different wheel width and diameter. That means Corvette drivers can count on perfect compatibility whether they are in the market for C4 wheels, C5 wheels, C6 wheels, C7 wheels or Z05 wheels.
Take, for example, the newest Cray wheel, the Brickyard model. Taking its name from the Indianapolis Motor Speedway, the Brickyard is a paired five-spoke design, with each spoke emanating from the center hub at a steep angle. At the juncture with the outer lip, the spokes define a deep back-cut barrel section. The Brickyard is offered in an array of stunning finishes, including silver with a mirror-cut face, matte black with a matte machined face and in solid matte black.
A unique feature of Brickyard custom Corvette wheels is its esoteric manufacturing technology, known as rotary forging. In rotary forging, the wheel is spun at high speed while the outer rim is forged under high pressure. The process alters the alloy's molecular structure to both enhance its strength and substantially decrease the wheel's weight. Thus, rotary forging produces a wheel that is simultaneously stronger and lighter than conventionally manufactured wheels. Auto enthusiasts know that reducing the "unsprung weight" of a vehicle—the tire and wheel—is vital to both speed and handling performance. "We're pushing Corvette performance in the direction 'Vette owners demand with our light-alloy, precision manufacturing methods" commented Scheckter.
While Corvette today offers just 18-inch and 19-inch wheels, the Brickyard, like all Cray wheels for Corvette, is also available in 20-inch diameter. Twenty-inch wheels must be paired with ultra-low profile tires, which improve vehicle performance in multiple dimensions. The Fitment Guide tab on the Cray homepage provides important information about which sizes are optimized for each year and model Corvette. The guide also indicates that most Cray wheels for most model years are available in a staggered fitment, meaning wider wheels available for the rear axle. A staggered fitment not only embellishes Corvette's already aggressive posture, but also improves grip under acceleration and while cornering.
Other Cray models include the multi-piece Hawk, which features ten "tuning fork" spokes, available in gloss black with a chrome stainless cut lip, matte black, chrome and silver with a machined face and a chrome stainless lip; the mesh-design Manta wheel, available in gloss black with a mirror cut lip, hyper silver with a mirror cut lip or in chrome and the five spoke Scorpion, also available in those three finishes.
All Cray Corvette aftermarket wheels are designed to accept the factory's checkered flag center cap, use OE wheel lugs and support Corvette tire pressure monitoring systems. Cray wheels are hub-centric, which ensures that they fit precisely over the center flange so the wheel is concentric with the wheel bearings for a truer, better balanced wheel/tire assembly and a smoother ride.
Beyond the Fitment Guide, the Cray website provides other useful shopping tools. The Configurator tab, for example, enables users to invoke a three quarter view image of their year, model and paint color Corvette, then "try on" each of the various models and finishes of Cray Corvette Custom wheels to see exactly how each enhances their Corvette's appearance. That experience is buttressed by the Gallery tab, which accesses nearly one hundred photographs uploaded by actual Corvette owners showing off their new Cray Corvette rims. The Inventory tab enables users and dealers to access actual factory inventory of each Cray wheel. In-stock orders received by 4pm ET are shipped the same day.
Cray wheels are available at all better automotive tire and wheel dealers. A dealer locator is available at 1 800 479-9723 or on the Cray website. Cray dealers are located throughout North America and worldwide, including Discount Tire Direct at discounttiredirect.com.