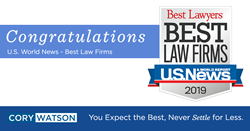 BIRMINGHAM, Ala. (PRWEB) November 01, 2018
Cory Watson Attorneys is proud to receive top-tier rankings from U.S. News – Best Lawyers® "Best Law Firms" 2019 that recognizes three of the firm's practice areas.
Firms included in the 2018 "Best Law Firms" list are recognized for professional excellence with persistently impressive ratings from clients and peers. Achieving a top-tier ranking signals a unique combination of high-quality law practice and dominant legal expertise.
Practice areas are ranked in national and metropolitan categories established by U.S. News – Best Lawyers.
The Cory Watson Attorneys practice areas recognized by "Best Law Firms" 2019 include:
METROPOLITAN RANKINGS
Birmingham – Tier 1:
Mass Tort Litigation/Class Actions – Plaintiffs
Personal Injury Litigation – Plaintiffs
Product Liability Litigation – Plaintiffs
ABOUT "BEST LAW FIRMS"
The U.S. News – Best Lawyers® "Best Law Firms" 2019 rankings are based on a rigorous evaluation process that includes the collection of client and lawyer evaluations, peer review from leading attorneys, and the Law Firm Leaders Survey, which incorporates 7.3 million evaluations of 54,463 lawyers.
Each recognized practice area must have at least one lawyer who is recognized in the current edition of Best Lawyers, which recognizes less than five percent of practicing attorneys nationwide.
ABOUT CORY WATSON ATTORNEYS
Cory Watson Attorneys is a nationally recognized personal injury law firm based in Birmingham, Ala., with more than $2.7 billion in recoveries for clients. Attorneys are frequently appointed to leadership positions in national cases involving pharmaceuticals and defective devices. Firm practice areas include Personal Injury, Product Liability, Class Action, Asbestos, Business & Commercial Litigation, Dangerous Pharmaceuticals, Defective Medical Devices, and Environmental/Toxic Torts. To learn more, visit CoryWatson.com.