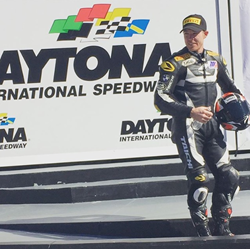 DAYTONA BEACH, Fla. (PRWEB) February 12, 2019
Arkansas native Cory West has signed with Central Florida-based team Squid Hunter Racing to race in the 2019 Daytona 200 on March 16.
West was introduced to team owner Peter Strack through mutual friend Hawk Mazzotta, who is himself a retired American Motorcyclist Association racer.
"It's great to get this opportunity to go after the Daytona 200 win with Squid Hunter Racing this year," says West. "Everything is falling into place perfectly and I'm looking forward to getting back on the high banks!"
Coming off of two national championships and four regional titles in club racing last season, Squid Hunter Racing believes they have the equipment to put under West to compete for a win.
"That's the goal—to win," says Strack. "We have to have that mindset to compete with these other talented riders and teams."
Squid Hunter purchased a brand new 2018 Yamaha R6 for West to ride in the Daytona 200. Off the track, co-owner Jordan Strange has worked long hours to get the bike and its crew dialed in for success in the Daytona 200.
"We are holding nothing back and being very analytical to ensure proper performance out of the new machine," says Strange.
About Cory West
Cory West has been riding motorcycles since the age of four. Inspired by his father, two award-winning great-uncles, and great-grandfather before him, West has competed at the national and international level for the past 18 years. Today, he owns and operates Froggy's Moto Tours, a motorcycle tour guide and off-road rental service specializing in private, guided tours through the Ozark Mountains. For more information, visit http://www.froggymoto.com.
About Squid Hunter Racing
Squid Hunter Racing, owned by Peter Strack and Jordan Strange, exists to provide motorcycle race support with better precision, and to build high-end race machines. The goal is to achieve a better experience on and off the track for racers and custom bike enthusiasts—this means quality over quantity in every aspect of the company. Visit http://www.squidhunterracing.com for more information about Squid Hunter Racing.
Additional Links:
https://facebook.com/SquidHunterRacing
https://instagram.com/SquidHunterRacing